Facebook Messenger: The Complete Guide for Business
If you haven't yet embraced Facebook Messenger as a valuable tool for your business, you're missing out on 2.45 billion active users. As of 2019, Facebook ranked second behind WhatsApp for the most popular messaging app for businesses, with 1.3 billion active monthly users. This user count means that Facebook messages create a direct bridge from your business or products and your potential customers.
How Facebook Messenger's Flexibility Helps Your Business
When you consider broad social network trends, you get a clearer picture of how vital Facebook Messenger is for businesses. The user base for dedicated messaging tools is beginning to overtake that of broader social platforms themselves.
One study published in 2019 showed that there are over half a billion more more active users on messaging apps than on various social media platforms. This activity level opens your business to a whole new demographic that you won't have access to if you don't use the messaging apps.
The retention rate is another big bonus for using Facebook messages. One firm showed that people use messaging apps more than other apps. The typical mobile app retains 11 percent of its users after a year. However, messaging apps keep 62 percent of their users after a year.
For a business, this means utilizing Facebook Messenger connects you to customers you can retain for your business. If they have positive interactions using this avenue, they're more likely to come back for more products and services.
Ads in Facebook Messenger also earn up to 15 times more engagement than standard ads because you can target them for specific audiences, like past customers. Another significant point is the efficiency you gain when using Facebook Messenger to solve consumer issues.
When you set up a Messenger bot or a Messenger system in general for your business, you can resolve issues in as little as 42 seconds. For customers having problems, this creates a memorable experience and a favorable impression.
How to Use Facebook Messenger for Your Business
We've outlined several important ways Facebook Messenger can boost your business. Now we've put together a comprehensive Facebook Messenger guide that will go through the process of setting up your business's Facebook page step by step.
Setting up your Facebook chatbot isn't glamorous, but the rewards are well worth the work. Once you know exactly how to set up your Messenger bot, we'll dive in and give you several strategies you can apply to your business.
For simplicity's sake, we're going to assume you already have a business page set up on the Facebook platform for your business. If you don't have a page, you'll have to create one before moving on to setting up your Facebook Messenger bot.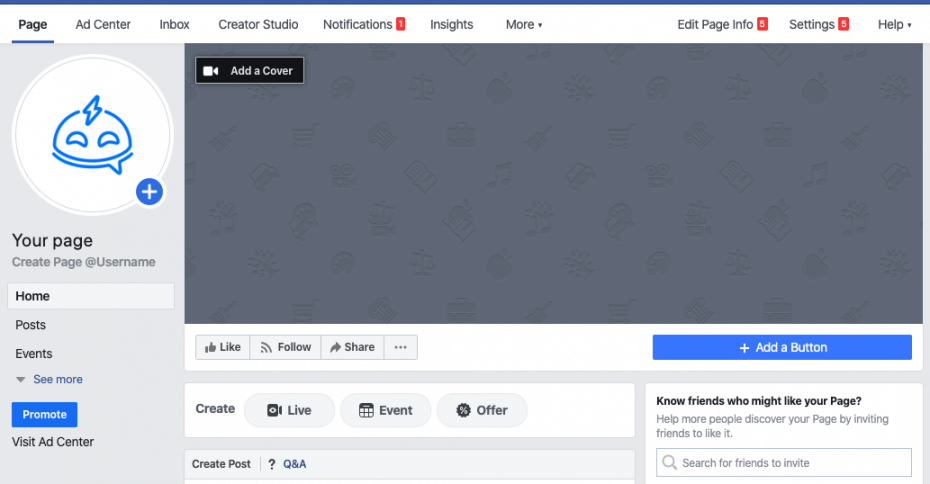 Step One - Choose Your Username
Your Facebook page needs a username. This username will also come up in Facebook Messenger when someone opens it. If you look at the photo above, you can see the username right below the page name on the left side of the page. It starts with the @ symbol. When you set this username up, it has to be at least five characters, and it can only have periods and alphanumeric characters. You want to keep it consistent with your brand, concise, and easy to remember because this is how your customers will find you.
To start, click on the "Create Page @username" in the left column on your page. This will open a new box where you enter your chosen username. If someone has it already, you'll be notified immediately, and you'll have to try combinations until you find one that is available.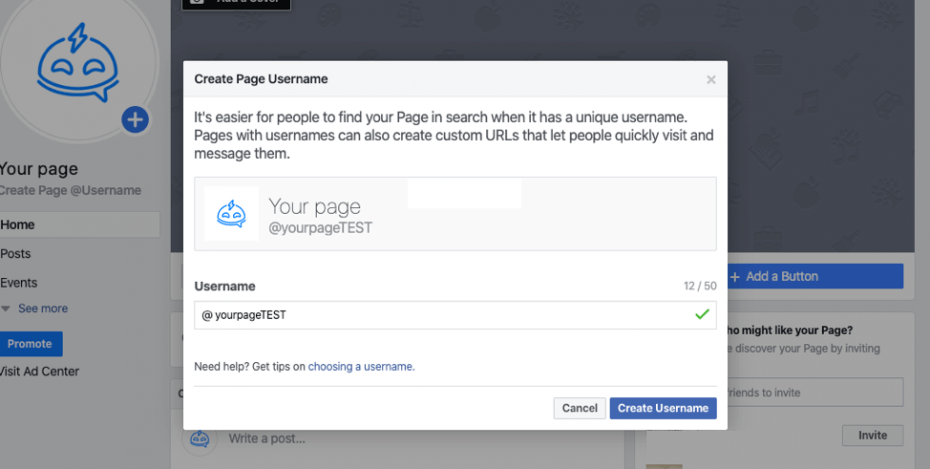 Click "Create username" to finish the process. If Facebook takes it, a box will pop up and tell you that you successfully picked out your page's username, and it's what people will see when they open Messenger or search for the page.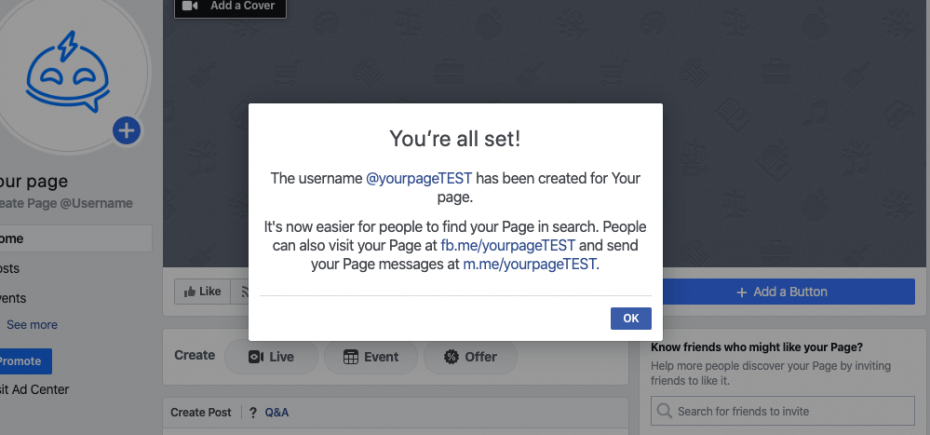 Step Two - Enable Your Page's Messaging Capabilities
If you're ready to answer incoming messages quickly, it's time to enable your page's messaging capabilities. From start to finish, this is a relatively straightforward process. First, click "Settings" from your Facebook page. This button is on the upper right side by the "Help" button. Once you click it, a new page will open to the general settings.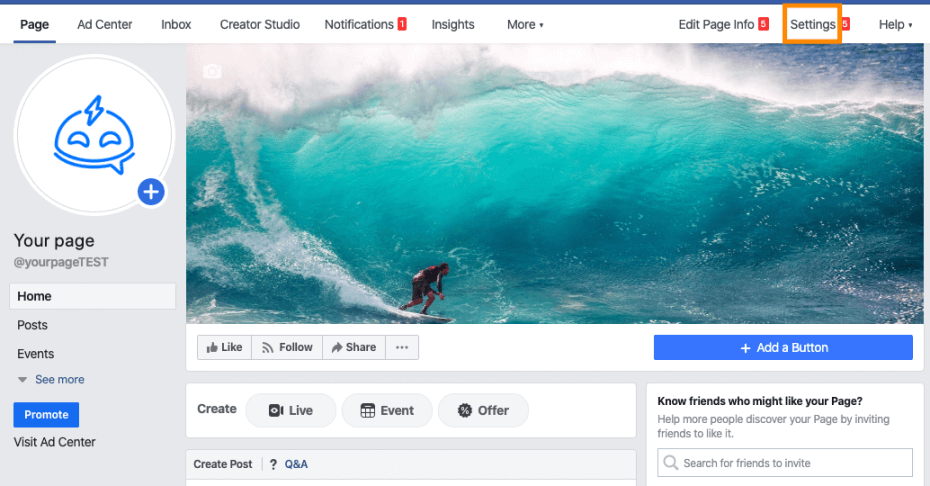 Scroll down until you see a "Messages" box, and click edit. You want to check the box that says, "Allow people to contact my Page privately by showing the Message button" and click "Save."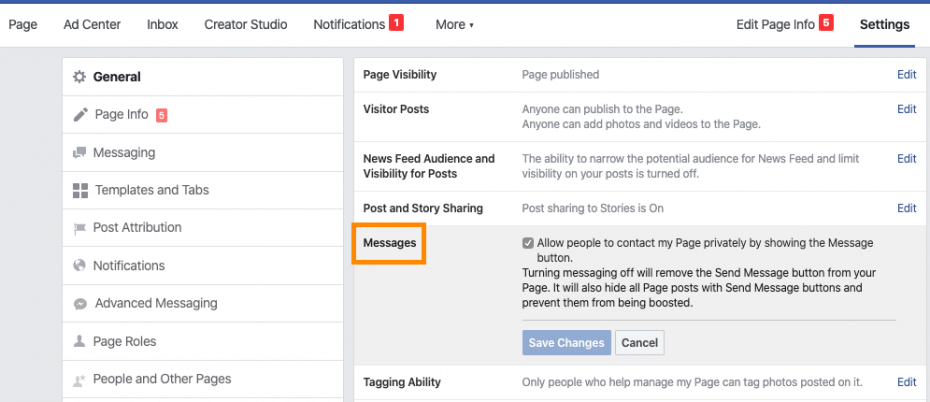 Step Three - Set Up Your Greeting Text and Instant Replies
Your instant replies are what they sound like. When users send a new message to your business page, they'll get an instant response from your Facebook bot. You can use these messages to direct visitors to your page or website or to give them an estimate on how long they'll have to wait for a reply. To get here, you're going to click "Inbox" from your Facebook page. Click on "Messaging" to open the settings tab for your Messenger.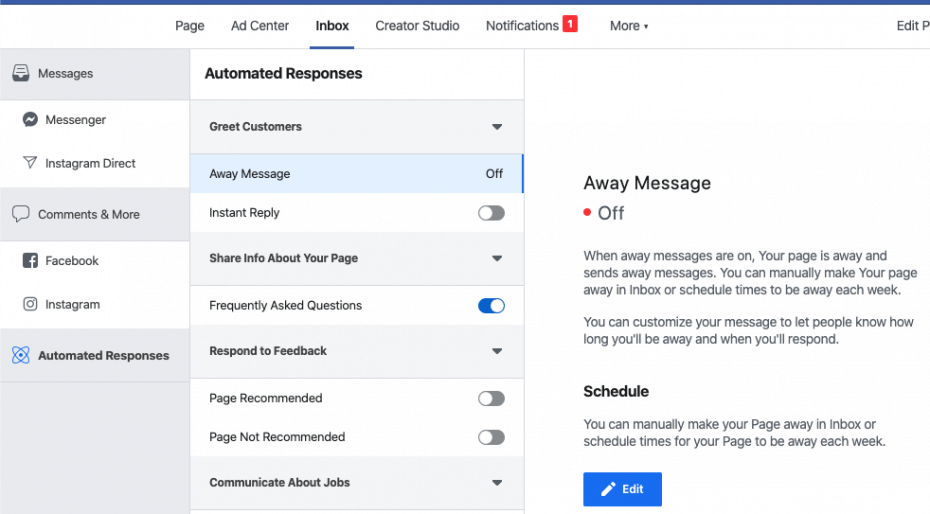 Next to the "Instant Reply" button, toggle it to switch it on. Next, edit your message to whatever you'd like it to say. The default message is, "Hi, thanks for contacting us. We've received your message and appreciate you reaching out." You can switch this message to directing customers somewhere or prompt them to ask a question. When you finish, save your changes.
You can preview your message in Messenger and tweak it as you see fit.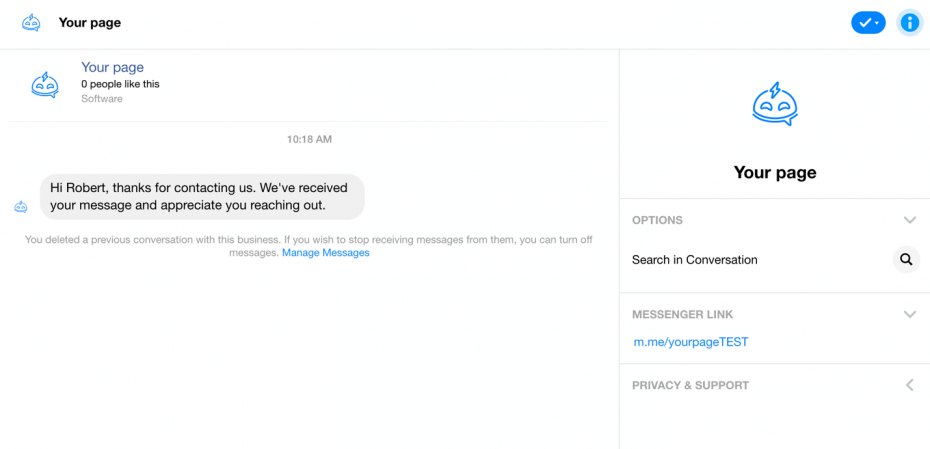 As soon as someone opens Messenger, your greeting text will pop up before they send their first message. You can use your greeting text to highlight your business's products or services and explain to users how they can access your business through Facebook Messenger. This setup process is also very straightforward.
To start, go to your business page and click the "Settings" icon in the upper right side, then click "Messaging." If you scroll down, you'll see the option under "Starting a Messenger Conversation" that says, "Show a Greeting." Toggle to switch this setting on. A generic greeting will come up, and you can edit it to say whatever you want. When you finish writing your message, click "Save."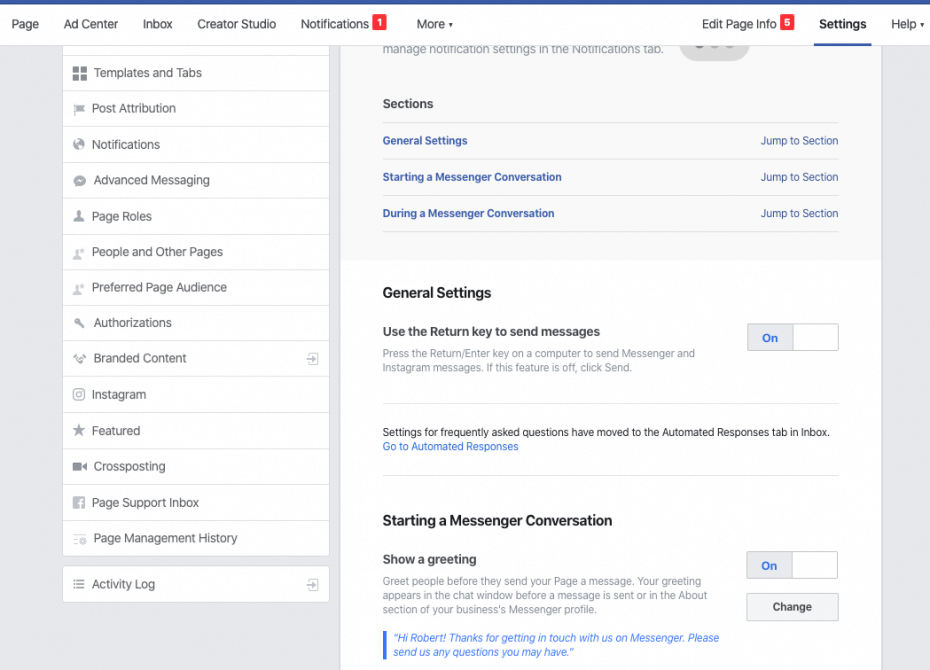 Step Four - Start Managing Your Response Time
On the right side of your page, Facebook will display how quickly you respond to messages through your business page. It could say a few minutes, a few hours, or a few days. You want to make your response time as fast as possible because this encourages people to interact through Facebook Messenger.
You could even try to get the "Very responsive to messages" Facebook badge. However, you'll need to hit an average response rate of 90 percent, and you have to have an average response time of 15 minutes over the past week. If you don't, you won't get or keep this badge. If you only respond regularly during regular business hours, don't forget to set your Page's messaging status to "Away" during off-hours.
Step Five - Set Your Page's Away Status During Non-Business Hours
Go back to your business's Facebook page and click your "Inbox" tab again. Click "Messages" along the left side, and click on "Automated Responses." You'll be able to edit your away message. You can set times for your page to be away each week, and you can select your reply. Make sure you add the correct time zone, and don't forget to block out weekends if you're not there.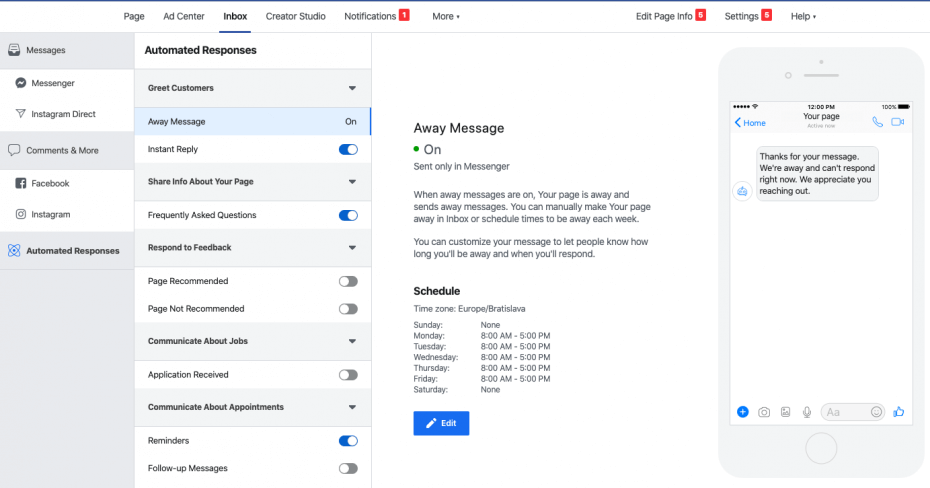 Business Tips for the Facebook Chatbot
Now that you know how to set up your Facebook chatbot, how to customize your responses, and how to achieve your response time badge, we'll dive in and talk about business tips and strategies. You can use these tools to increase your engagement and connect with more customers. Now you're ready to make Facebook Messenger work for you.
Tip One - Incorporate Messenger Links
Your Messenger link is a useful tool you can use to encourage people to start a conversation with your business's page. Messenger links can appear in your email signature, on your website, on social media profiles, or even on printed materials where you only have a small space.
Your messenger link is the m.me/[username]. So, if we wanted to use the "Your page" example page for this scenario to start a conversation, you could use the "Your page" Test Page Messenger link: m.me/yourpageTEST. This m.me/ link is your page's username. You can find it by opening Messenger and looking to the right when you pick a conversation.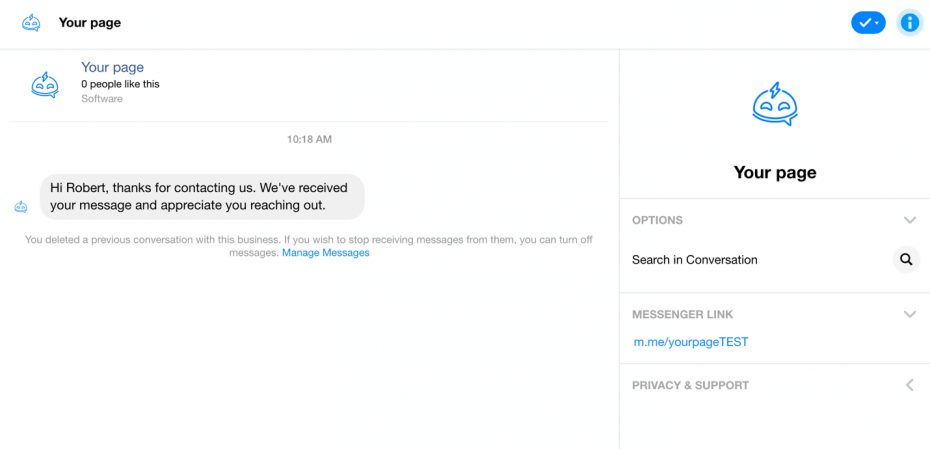 Tip Two - Provide Customer Support
If your customers have a problem with your products or business, they'll turn to social media to get your attention and tell you all about it. There are a few ways you can use Facebook messages to provide instant customer support and resolve their issues. They include:
Send a Private Response to Public Messages
Customers can post comments, customer service questions, or concerns right on your business's Facebook page instead of messaging you privately. However, these posts are visible to anyone else who looks at your page. This openness makes these public posts far too visible to deal with anything that involves personal information like an order confirmation number.
Instead of replying publicly to your customer and asking them to send you a private message or email your business with any information you need to resolve their information, you can reply directly with Facebook Messenger. As long as you use a private message to respond, your customer is the only one who will see your response and be able to post their reply safely.
Whatever the customer initially posted on your page will stay public. But your response will be private, so no one else can view it. However, Facebook will show that you responded so other people don't think you're ignoring the question or concern.
Use Facebook Messenger to Provide Direct Customer Service
You can set up your Facebook Messenger to be a dedicated customer service channel for your business. It's usually much more comfortable for your customers to find you on social media platforms like Facebook that it is to hunt through your website for your customer service email address.
We mentioned earlier that direct customer service through Facebook Messenger could resolve complaints or address issues in as little as 42 seconds. One large telecommunications company in Canada implemented its Facebook chatbot as a customer service channel. When they did, they found that their complaints dropped by 65 percent while customer satisfaction increased.
However, if you choose to go this route, your response times will matter even more than it normally does. You'll want to have someone monitoring your Messenger bot at all times during regular business hours. Customers expect a fast response, and their satisfaction score typically depends on it.
Ideally, you want to have the "Very Fast" response badge to inspire confidence in your customers. You may get away with replying within an hour, but you don't want to go much over this time limit. If you're too slow to respond, it can negatively impact your business.
Tip Three - Sell Directly with Facebook Messenger
In 2016, Facebook implemented a program in the United States that lets businesses sell their products directly through their Facebook Messenger bot. For example, Tommy Hilfiger used their TMY.GRL bot during New York's Fashion Week. They showcased the clothing immediately after the runway shows ended, and customers got a chance to access and purchase the new clothing lines.
To sell directly through the Facebook chatbot, you'll have to link it to your e-commerce store or website. Once you connect it and add a Messenger sales channel, the "Buy Now" button will appear in your Messenger. Your customers can purchase your products in a few quick clicks to boost your sales.
Tip Four - Add a Send Message Button on Your Local Awareness Ads
You can launch a host of local awareness ads directly from your business's Facebook page. These ads specifically target people within a set geographic distance from your set offline location or business address. By reaching out to people who are in driving or walking distance, you can encourage them to drop by your store and support a local business.
Putting a "Send Message" button as a call to action on your local awareness ads encourages people to come directly to you. Additionally, an in-person visit at your brick-and-mortar location can dispel any apprehension your potential customers may have about your business, products, or services. This visit also gives people the peace of mind of knowing you're nearby should something go wrong.
Tip Five - Offer Services Through Your Facebook Bot
Chatbots exploded in popularity when businesses realized they created exciting opportunities to incorporate automation into various areas of their business. Chatbots can provide product recommendations, customer service, and custom content.
One great example of a company that embraced Facebook chatbots for their business is Dutch airline KLM. Customers could use the chatbot to find out about any updates concerning their flights, change their seat preference, or send in their boarding passes. Facebook is now home to thousands of chatbots that businesses use to engage customers and improve their experience.
Tip Six - Collaborate With Your Staff Using Dropbox Integration
Did you know that you can attach Dropbox files directly to Facebook Messenger? No matter if you want to collaborate with clients or staff, you can put the data directly into your Messenger conversations. The Dropbox works wonderfully for images and videos because these things display instantly in your chat when you upload them.
You can get instant feedback from your team or client on any graphic materials. For any other files, the people in your chat just have to click the "open" icon to open the data into the Dropbox app. You can attach Dropbox files by:
Installing the Dropbox app on your device first if you don't have it. This app is available for both Apple and Android devices.
Opening a conversation in Messenger and picking the participants.
Looking on the bottom of your screen for three small dots. Tap these dots and select Dropbox.
Selecting your file. It'll upload into Messenger for everyone to see.
Tip Seven - Connect With Staff by Sharing Your Location
One final thing you can do with Facebook Messenger to boost your business is to simplify your offline meetings and make connecting with your staff or coworkers fast and efficient. Traditionally, you'd send a host of messages back and forth to try and decide when and where you want to meet and to make sure everyone is on the same page.
It's easy for details to fall through the cracks. With Messenger, you can send your current location or any location you choose directly through the Messenger app. This setup ensures everyone arrives in one place.
To do this, open your conversation and choose your participants. Tap the three dots on the bottom of your screen to open it and click "Location." Use your finger to move the pin to whichever location you desire. You can also search for a place by name. Once you have it, tap "Send." The location will go to everyone in the conversation.
Create Your Bot With Botsurfer Today!
Want help taking advantage of Facebook Messenger for your business? If you're ready to set up your customized bot, start with Botsurfer. You can register for free and explore our software. If you have questions, feel free to reach out.
Business operations
How to use banned AI ChatGPT in Italy: Combining Facebook Messenger with Botsurfer
Read more