Chatbot Names: How to Pick a Good Name for Your Bot
What's all this talk about chatbot names? While you may not be paying your chatbot a salary at the end of every month, it doesn't mean its role isn't valuable. Your bots save your company time and money, handling vital conversations with your customers. While they're solving a lot of your customers' queries and problems, you and your employees are free to handle other aspects of the business.
Interacting with a chatbot that has a unique name makes the customer's experience more personalized and life-like. Anyone who engages with Amazon's Alexa or Apple's Siri or even with IBM's Ross can vouch having a conversation with these bots seems more human-like than robotic.
While a lot of companies choose to name their bot after their brand, it often pays to get more creative. Your chatbot represents your brand and is often the first "person" to meet your customers online. By giving it a unique name, you're creating a team member that's memorable while captivating your customer's attention.
There are many other good reasons for giving your chatbot a name, so read on to find out why bot naming should be part of your conversational marketing strategy. We've also put together some great tips to help you decide on a good name for your bot.
Reasons for Giving Your Chatbot a Name
You've put a lot of effort into creating a chatbot for your Facebook Messenger or website. You and your marketing team decided what your bot should look like and whether it should be a he or a she! The next step is deciding whether your bot really needs its own individual name.
If you're still wondering about chatbot names, check out these reasons why you should give your bot a unique name.
It Makes Your Bot More Approachable
If you've ever had a conversation with Zo at Microsoft, you're likely to have found the experience engaging. Using a name makes someone (or something) more approachable. Customers having a conversation with a bot want to feel heard. But, they also want to feel comfortable and for many people talking with a bot may feel weird.
By naming your bot, you're helping your customers feel more at ease while conversing with a responsive chatbot that has a quirky, intriguing, or simply, a human name.
It Keeps Your Customers' Attention
A memorable chatbot name captivates and keeps your customers' attention. This means your customers will remember your bot the next time they need to engage with your brand. A stand-out bot name also makes it easier for your customers to find your chatbot whenever they have questions to ask.
A good chatbot name will stick in your customer's mind and helps to promote your brand at the same time.
Creates Engaging Bonds
A name helps to build relationship even if it's with a bot. While your bot may not be a human being behind the scenes, by giving it a name your customers are more likely to bond with your chatbot. Whether you pick a human name or a robotic name, your customers will find it easier to connect when engaging with a bot.
Names can often lead to emotional and engaging bonds between two people and there's no reason why the one "person" in the relationship shouldn't be your bot!
Ready to build your first bot and give it a name? Try Botsurfer!
7 Great Tips for Picking a Name for Your Chatbot
If your chatbot is at the forefront of your business whenever a customer chooses to engage with your product or service, you want it to make an impact. And, having the right bot name is often the hook you need.
But, how do you go about picking a name for your chatbot? There are a number of factors you need to consider before deciding on a suitable bot name. Read on for our list of great tips.
1. Identify Your Chatbot's Role
Even before deciding what your bot will look like, you need to identify its key role in your conversational marketing strategy. Will your ecommerce chatbot be focusing on promoting the key products or services of your online business? Or, is your bot's main role to offer solutions to your customer's problems?
Other roles your bot could be assigned to include:
Assisting customers with routine processes
Guiding customers in making payments for invoices
Offering customer service support
Routing live chat requests
Virtual assistant on business apps
Once you have a clearer picture of what your bot's role is, you can imagine what it would look like and come up with an appropriate name. Knowing your bot's role will also define the type of audience your chatbot will be engaging with. This will help you decide if the name should be fun, professional, or even wacky.
2. Get Personal by Adding Personality
Personalizing your bot with its own individual name makes him or her approachable while building an emotional bond with your customer. You'll need to decide what gender your bot will be before assigning it a personal name. This will depend on your brand and the type of products or services you're selling, and your target audience.
However, research has also shown that feminine AI is a more popular trend compared to using male attributes and this applies to chatbots as well. The logic behind this appears to be that female robots are seen to be more human than male counterparts.
Your bot's personality will not only be determined by its gender but also by the tone of voice and type of speech you'll assign it. The role of the bot will also determine what kind of personality it will have. A banking bot would need to be more professional in both tone of voice and use of language compared to a Facebook Messenger bot for a teenager-focused business.
3. Decide on the Type of Name: Human or Robotic?
You now know the role of your bot and have assigned it a personality by deciding on its gender, tone of voice, and speech structure. Adding a name rounds off your bot's personality, making it more interactive and appealing to your customers. However, you'll need to decide what type of name to pick.
Bot creators who go as far as finding a name for their chatbot toss up between giving it a human or robotic name. This is where it can get confusing for companies who want to humanize their bots while keeping their customer's trust during conversations with a robot.
Good branding digital marketers know the value of human names such as Siri, Einstein, or Watson. It humanizes technology and the same theory applies when naming AI companies or robots. Giving your bot a human name that's easy to pronounce will create an instant rapport with your customer. But, a robotic name can also build customer engagement especially if it suits your brand.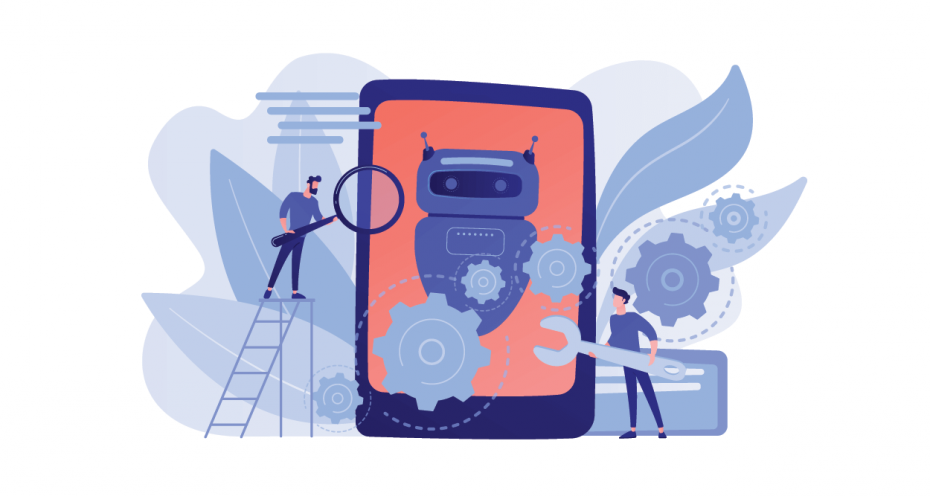 4. Avoid Ambiguity
Certain names for bots can create confusion for your customers especially if you use a human name. To avoid any ambiguity, make sure your customers are fully aware that they're talking to a bot and not a real human with a robotic tone of voice! The next time a customer clicks onto your site and starts talking to Sophia, ensure your bot introduces herself as a chatbot.
Another way to avoid any uncertainty around whether your customer is conversing with a bot or a human, is to use images to demonstrate your chatbot's profile. Instead of using a photo of a human face, opt for an illustration or animated image.
Features such as buttons and menus reminds your customer they're using automated functions. And, ensure your bot can direct customers to live chats, another way to assure your customer they're engaging with a chatbot even if his name is John.
Robotic names are better for avoiding confusion during conversations. But, if you follow through with the abovementioned tips when using a human name then you should avoid ambiguity.
5. Be Creative With Descriptive or Smart Names
You can go wild with the name you give your bot. However, good bot names that make an impact include being descriptive or smart but not bizarre! A descriptive name clearly tells the customer the function of the bot but be careful it's not boring. Or, too descriptive!
An example of this would be "Customer Agent" or "Tips for Cat Owners" which tells you what your bot is able to converse in but there's nothing catchy about their names. By being creative, you can name your customer service bot, "Ask Becky" or "Kitty Bot" for cat-related products or services.
Smart or clever bot names work well for companies selling finance, real estate, insurance, or any other sector in the professional field. Here are some name ideas you could use for your bot:
Tech Bot (or Tech Buddy for a more relaxed version)
Cleverbot or Smart Bot
Konversation
Volt Bot
Cybernetic
Digital Dave
Tutorial Bot
Be creative with descriptive or smart names but keep it simple and relevant to your brand.
6. Keep it Brand Relevant
Your bot is a representation of your brand. Bot builders can help you to customize your chatbot so it reflects your brand. You can include your logo, brand colors, and other styles that demonstrate your branding. Finding the right name is also key to keeping your bot relevant with your brand.
What are you selling? You could give your bot a name similar to the product or services you're offering. For example, if you're offering life coaching services, your bot's name could be. "Coach Sally." If you're in the business of selling fly fishing rods, how about calling your bot, "Trout?"
Your bot should be increasing your brand's presence. Robotic names are suitable for businesses dealing in AI products or services while human names are best for companies offering personal services such as in the wellness industry. However, you're not limited by what type of bot name you use as long as it reflects your brand and what it sells.
7. Focus on Making Your Bot Work
If you spend more time focusing on coming up with a cool name for your bot than on making sure it's working optimally, you're wasting your time. While chatbot names go a long way to improving customer relationships, if your bot is not functioning properly, you're going to lose your audience.
Make sure your chatbot is able to respond adequately and when it can't, it can direct your customer to live chat. Take advantage of trigger keyword features so your chatbot conversation is supportive while generating leads and converting sales.
User experience is key to a successful bot and this can be offered through simple but effective visual interfaces. You also want to have the option of building different conversation scenarios to meet the various roles and functions of your bots. By using a chatbot builder that offers powerful features, you can rest assured your bot will perform as it should.
Quick Tips for Picking a Chatbot Name
If you take into consideration our list of great tips, you'll find picking a chatbot name a lot easier. However, here are some quick tips to also ensure you're giving your bot a name that sticks:
Keep it simple: Avoid lengthy names that sound more like a sentence than a name. Short and simple names are also easier to remember. And, they're easy to read.
Pronounceable: Names that are easy to say will also make your customer feel more comfortable. People connect better with names that are pronounceable. And, they're also more memorable.
Target audience: Always keep your target audience in mind when picking a name. An English name might not resonate with clients in a foreign country while the name "Trout" really wouldn't work for a banking app bot.
Be original: Use your creativity and come up with an original name that's unique. Generic names can be very boring. And, obvious names also means you've not tried to think out of the box!
Final Thoughts
Coming up with a name for your chatbot can be lots of fun. But, make sure you don't go overboard and end up with a bot name that doesn't make it approachable, likable, or brand relevant. Use our tips to get you started once you've built your bot. Contact us at Botsurfer for all your bot building requirements and we'll assist you with humanizing your chatbot while personalizing it for all your business communication needs.
Business operations
How to use banned AI ChatGPT in Italy: Combining Facebook Messenger with Botsurfer
Read more