Creating the Best Bot Welcome Message to Engage Your Audience - Tips and Tricks
You get one chance to make a great first impression when you run a marketing campaign. This is why your welcome message in your chatbot is so important. We'll talk about a business welcome message and how to make the right first impression below. You'll get tips to craft the best welcome to Facebook message below. 
The Purpose of a Welcome Message
Anyone who uses Messenger to contact your business will see your chatbot's welcome message. It starts with a warm and friendly greeting and gives people basic information to orient them before offering options to keep the conversation going. You can compare it to your website's homepage. The welcome message is the first thing people see, and it gives them the first impression of your brand.
The reality is, warm welcome messages make the customer feel at ease and comfortable. Think of it as a greeting as a customer enters the store. A well crafted welcome message can:
Introduce Your Chatbot - It's tempting to act like your chatbot is a real person, but it's not. Not introducing your chatbot properly can lead to a negative impression if your customers think they're talking to a person only to find out it's a bot. Let your customers and potential customers know they're talking to a bot in your welcome message and then build humor to showcase your brand personality throughout the conversation.
Engage with Humor - A little humor goes a long way with welcome messages. Customers know a machine is chatting with them, so inject personality. Use emojis, humor, and short video clips to engage them. This lets you connect quicker, and it can banish skepticism.
Set Expectations - Business welcome messages can outline what your chatbot can and can't do for the customer. Setting expectations from the start will reduce the chances of potential disappointment from your customers. People won't expect your chatbot to do everything a live agent can do, and it shows customers how to use the bot to their advantage.
Personalize the Experience - The issue with personalization is you don't know much about the people on the other end. They could be a returning customer or brand new. You'll need a unique approach for personalizing the experience, including:

Including a reference to the customer's location.
Introduce first-time visitors to your site, products, and services.
Welcome returning customers back. Use this opportunity to show them new additions.
Aspects to Include in Your Business Welcome Message
Your welcome message should only be a few lines long, but it has to have the following elements to ensure it's successful:
Introduction - Let customers know who or what they are interacting with when they open the Messenger. Your chatbot can share its name and point out that it's a bot in a single leading sentence. It could say, "I'm Amber, your personal bot assistant for business."
Capability Summary - After the welcome message, outline what the chatbot can and can't do. Promise a tangible, concrete incentive for customers to interact with the chatbot. It could say, "I'm here to guide you to the perfect product," or "Take my short survey, and I'll give you a 10% discount on your first purchase at this business." Again, this should be one or two sentences at most.
Simple Questions - Make it quick and easy for customers to respond and keep the conversation flowing. Ask a question and encourage a reply from the customer by offering text with emojis alongside it like Shop Cosmetics💄, Request an Appointment 📅 or Claim a Discount/Coupon 💰.
Tips for Crafting an Engaging Welcome Message
A welcome to Facebook message should engage your users from the first few lines. If it doesn't, there's a chance that they'll close out the window and go elsewhere. Our biggest tips include:
Use Simple Language - You'll have readers across dozens of socioeconomic backgrounds from highly educated business people to people who didn't finish high school. Engaging them all means using language everyone can easily understand. Write at the lowest grade level you can while avoiding spelling, grammar, and punctuation mistakes. Use short, easy-to-read, concise sentences, and try to make an impact from the first few lines. The Hemingway App can help monitor your reading levels with your scripts.
Use an Emoji - Unless you're a high-end or luxury brand, use emojis. Emojis break up walls of text and give customers visual cues. They add a welcoming and friendly tone to the conversation, and this can put customers at ease with the whole process.
Don't Spam - You never want to spam people as soon as they open the chatbot. This can overwhelm them very easily and cause them to close out. Chatbots are supposed to mimic human conversations, so there should be gaps between questions and sentences. Set the bot to send a few lines of text before pausing for the person to answer and/or ask a question. Every line is roughly one second of reading time. Use this to your advantage and prompt flowing conversations.
Give Chances to Unsubscribe - Although you want to engage potential customers, they should be able to opt-out if they choose. Placing an unsubscribe or close button in plain view in your menu is a good choice. If they can't opt out easily, it can leave a bad taste in their mouth and turn them off of your brand or business.
Name Your Chatbot - Give your chatbot a simple name. It could be a human name like John or Jane, or you could try something related to your brand. If you sold camping gear, name it something like "Sky" or "Fish." Pick something memorable and then add your brand's personality in with humor.
Incorporate Frequently Asked Questions (FAQs) - Chatbots can answer customers' frequently asked questions. However, they should direct more complicated questions to a live agent to avoid frustration on the customers' part.
How to Create a Bot Welcome Message with Botsurfer
At Botsurfer, we make it easy to create a business welcome message with our platform, and it's free to do. Start by going to Botsurfer and clicking "Get Started" on homepage.
Step One - Create an Account
When you click on "Get Started," a new tab will open and prompt you to input your company name and email. Fill them in and click to agree to the terms and conditions and privacy policy. Click "Continue with Facebook" to move to the next step.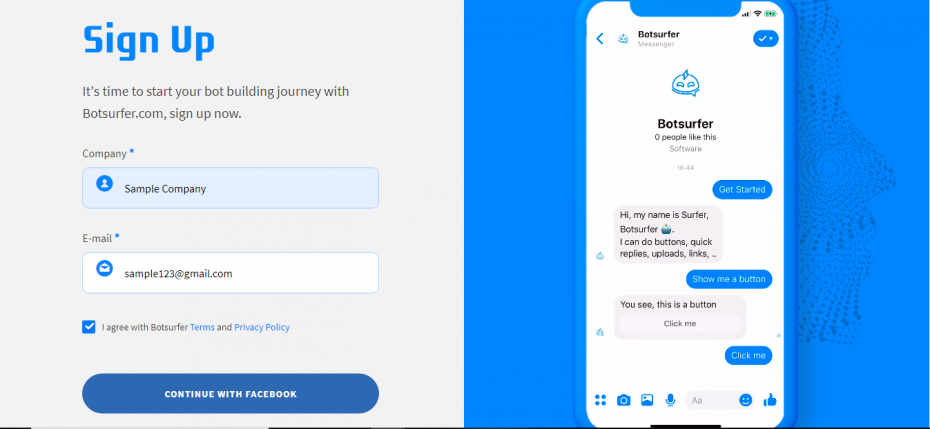 Step Two - Log into Facebook and Give Permissions
You'll log into Facebook and choose the page you want to continue with. Pick your business page, because this is what Botsurfer's chatbot will connect to. Click "Next" and give Botsurfer permission to receive your email address, manage your pages, manage and access page conversations in Messenger, and access your page and app insights. Click "Done" to move on.
Step Three - Explore Your Dashboard
Botsurfer will open in another tab, which will take you to your dashboard. Start exploring your dashboard in Draft mode. You'll see a space for your chatbot greeting message, conversation scenarios, and action keywords.

Step Four - Set Up Your Greeting Message
One of the first things you do is set up your greeting message for your chatbot. Click on "Greeting Message" in the left-handed column to bring up that part of your dashboard. This space will let you change your chatbot's greeting. Putting *first name* will prompt the bot to greet the customer by their first name when they open Facebook's Messenger.
You'll see a host of 'best use' practices that will guide you on making your welcome message. You can come back here at any time and fix your settings or change your welcome message.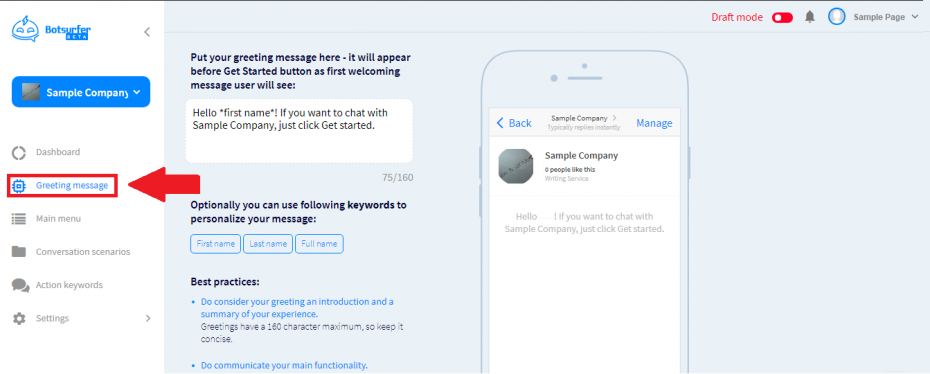 Step Five - Set Up Your Conversation Scenarios
Your conversation scenarios will appear right after people click the "Get Started" button on Messenger. Fill it out however you like. There're links to add buttons for responses, text, images, GIFs, links, or audio. Spend a little time here experimenting with different options until you find the one that you think will engage your customers and hold their attention.

Step Six - Pick Your Action Keywords
Action keywords are prompts for your chatbot in case potential customers ask something beyond the bot's capabilities. For example, the customer puts in an unknown phrase or keyword. Your chatbot would respond with your pre-programmed response like, "I'm sorry! I'm a bit lost..let me narrow it down for you" or *First Name,* would you like me to connect you to my human teammate?" Add in as many as you like. Program what the script says when someone says "Hello" or "Hi' in this area as well.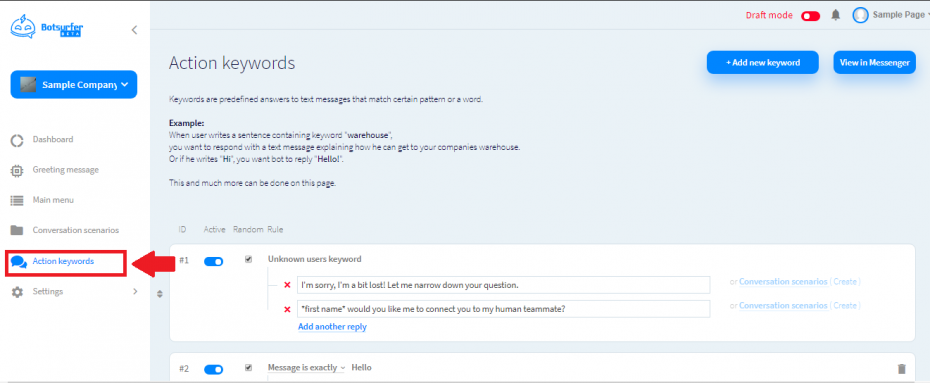 Step Seven - Set Up Your Main Menu (Optional)
It's possible to add the main menu. This menu will open every time someone opens Messenger and interacts with your chatbot. The main menu can have three items, and every item can have five nested categories for a total of 15. Every nested tab can have five nested things for 75 items in total. The Messenger menu can hold up to 93 different subcategories.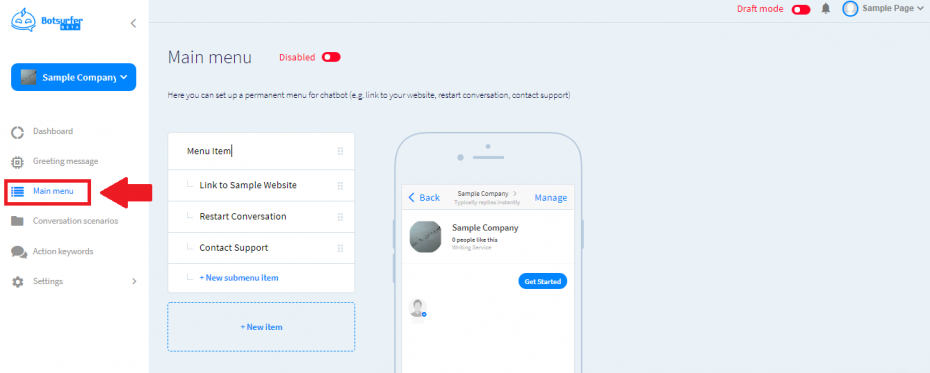 Step Eight - Review the Chatbot and Launch It
The final step you take is to review everything. Look for grammar, punctuation, and spelling errors. Fix anything you see. When you're happy with your chatbot, click to go into Live Mode in the upper right-hand corner. Your bot is ready to interact with potential customers. It'll generate a link you can share in ads or on your Facebook Business Page to direct people to Messenger.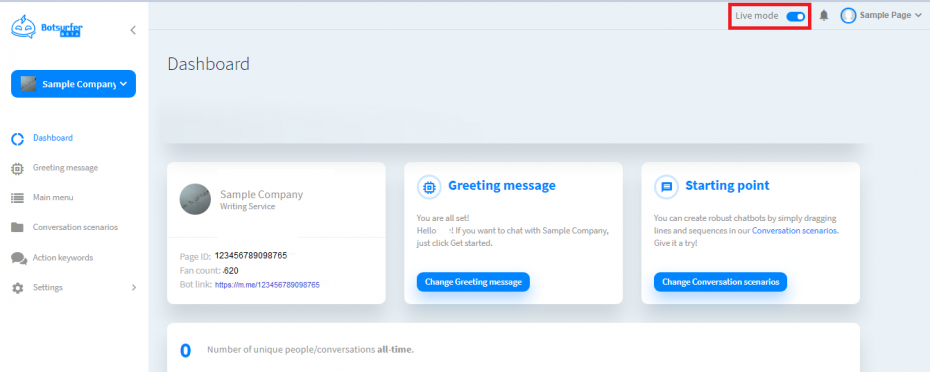 Step Nine - Monitor Your Activity
The Dashboard in Botsurfer lets you monitor your activity day by day. Use this area to see how many people interact with your bot on a daily, weekly, monthly, and yearly basis. Test your script and variations. Look here after each change to see which one converts better.

Innovative Chatbot Examples
Companies have figured out how to use chatbots to provide an immersive and engaging customer experience. Some of the best examples of these branded chatbots include:
1. 1-800-Flowers
1-800-Flowers was one of the first companies to use Facebook's Messenger chatbot. The bot helps customers send gifts and flowers directly from Messenger instead of redirecting to the company website. It makes gift suggestions too, sends shipping updates, and processes orders. Customers get help finding flowers and get live updates regarding delivery.
2. H&M
This company's chatbot quizzes potential customers about their style and preferences. Answer the questions, and it'll give you tailored clothing recommendations. Customers can share clothing they like with the chatbot, and it'll pull an entire outfit together around a single garment. It'll pick from the catalog and it's a great way to upsell.
3. Casper
Casper's Insmnobot-3000 keeps insomniacs entertained by talking about everything from pizza to Stranger Things to Seinfeld. Only available between 11 p.m. and 5 a.m., it infuses product plugs with humor while bringing customers closer to the brand as a whole.
4. Disney
Disney drummed up excitement for the release of Zootopia by offering the Officer Judy Hopps chatbot through Facebook Messenger. It was a short game where fans used Officer Hopps to solve crimes. On average, people spent 10 minutes interacting with the chatbot. This bot was a creative way to build excitement before Zootopia hit theaters.
5. Spotify
Click on Spotify's chatbot and you'll immediately be able to immerse yourself in music. Listen to, share, and search for your favorite music genres and bands. Once you start, Spotify's chatbot will customize your music selection based on your taste, mood, what you're doing, and more. You can share and save your playlists as you make them.
6. Fandango
Movie buffs can use Fandango's Facebook chatbot to find local theaters, watch movie trailers, and see what movies are trending in any given week. To start, open Messenger and enter your zip code. The chatbot will show you show times, what's playing near you, and direct you to a page where you can buy your movie tickets.
7. MasterCard
MasterCard set up their chatbot to allow cardholders to check on recent transactions. Ask questions like, "How much did I spend on Starbucks in October?" and it'll give you your amount. Cardholders with Masterpass can now use Messenger to buy things from MasterCard partners including Subway, FreshDirect, and the Cheesecake Factory with a click.
Try Botsurfer Today!
Need help crafting the perfect business welcome message? Register for free and do not hesitate to reach out and contact our team today!
Business operations
How to use banned AI ChatGPT in Italy: Combining Facebook Messenger with Botsurfer
Read more