Incorporating Targeted Messenger Ads Into Your Marketing Campaign
There are over 1.3 billion people spending time on Facebook Messenger from every corner of the globe. This heavy usage prompted the platform to release Facebook ad chat. After Facebook successfully beta-tested ad chats in Australia and Thailand, they rolled it out to the global audience. Messenger is now a key place for brands to interact with customers in a direct and personal way.
The Rise of Messaging Apps
Messaging apps have experienced a surge of popularity in recent years, and they're on track to surpass big social networks in terms of usage. Between WhatsApp, Facebook Messenger, WeChat, and QQ Mobile, they have 4.7 billion monthly users. If you want to reach potential customers using ads, Facebook Messenger is where to find them.
Along with chatting to friends and family, people are talking to businesses. Brands can initiate conversations with potential customers rather than waiting for the customers to reach out directly. This trend is likely to continue.
Defining Facebook Messenger Ads
Facebook added three new ad types that help businesses build relationships with potential customers by encouraging direct, one-on-one communication. The Facebook Messenger ads are Click-to-Messenger ads, Messenger Ads, and Sponsored Messenger ads.
Click-to-Messenger Ads - These ads appear on Instagram or on the Facebook News Feed. However, the call to action differs from a traditional ad. The call to action says, "Send Message." When someone clicks on it, the Messenger chat will open to your brand page.
Messenger Ads - This ad type appears directly in the Messenger home screen. You'll see it on the side of the other messages in your audience's inbox.
Sponsored Ads - A sponsored ad lets you deliver a message to anyone that has interacted with your brand previously. If you have a promotion or limited-time item, you can let customers know about it.
How to Run a Facebook Messenger Ad Campaign
Before you create your Messenger ads for your Facebook ad chat, enable messaging on your Facebook page. Only turn this feature on if you can respond to any inquiries quickly because the ads can cause an influx of interest and Facebook will track your response times.
Set Up Click-to-Messenger Ads
Click-to-Messenger ads work to engage people and pull them into a conversation about your services, brand, or products. When a person clicks on these ads, a Messenger window will pop up. If you pick this option, make sure you put responses in to automatically greet anyone that clicks on the ad.
Go to Facebook Business Manager and click "Create Ad."
Pick your ad objective (Messages) before clicking on the "Continue" button.
Complete the Destination section by picking "Click to Messenger."
Add your ad budget, audience, and schedule.
Build your ad by adding a headline, text, CTA, and an image. The text and CTA should encourage your readers to contact your business.
Select "Messenger Setup" and fill in the content that people will see after they click on the ad.
Review your ad for any mistakes, edit it as necessary, and click "Place Order" to finish the setup.
Set Up Facebook Messenger Home Screen Ads
If you have an ad campaign and extending the campaign's reach is your goal, putting ads directly on the home screen of Messenger is a good way to go.
Click into Facebook Business Manager and click "Create Ad."
Choose the ad's objective. The objective could be app installs, traffic, reach, conversions, brand awareness, messages or catalog sales.
Give your ad set and campaign a name.
Complete the Destination section. Pick where you want your ad to direct potential customers. Choosing your website is popular because it drives traffic from Facebook to your business's site.
Pick Automatic Placements or Edit Placements.

To make sure your ad stays on the Messenger's home screen, pick "Edit Placements." It'll let you pick the Home option only if you pick Facebook Feeds as well.

Add your budget, audience, and schedule
Now your targeting information is in and you can build the ad. Add in the headline, text, CTA, URL, and image. There are several formats, including a carousel, single, dynamic, and video ads.
Preview the ad and check for errors.
Click "Place Order" to publish your Home screen ad.
Set Up Sponsored Message Ads
Sponsored messages let you re-target interested buyers or existing customers. You'll only send this ad to people who have messaged your page in the past. When you open chat, the ads get a "Sponsored" label, so they blend into conversations on the Home screen.
Go to the Facebook Business Center and pick "Create Ad."
Pick the objective (Messages). This is the only option with Sponsored ads.

Click "Create Multiple New Ad Sets" if you want to send multiple messages to one person.

Click "Sponsored Message" in the Messages section from the drop-down menu, and then pick the Facebook Page you want to send your message from.

This will automatically create a custom audience covering everyone who messaged your page in the past. There is a minimum of 20 people.

Pick "Automatic Placements."
Click "Turn On" when Messenger pulls up placement notifications.
Specify your schedule and budget.
Pick whether your ad will appear as text only or text with an image.
Pick the page you want the ad to connect to by going into the "Page and Links" section.
Set up a call-to-action.
Preview your ad for errors.
Click "Place Order" to finish with your ad.
How to Export Facebook Messages
The People tab on Facebook is a tool that you can use to create a targeted audience for your ads. Facebook bases this audience on what it calls your lookalike audience. Using this audience is a quick way to reach potential customers who will have interest in your Messenger chatbot because they're similar to the people who previously messaged your chatbot. By exporting Facebook chat, you get this targeted audience.
Exporting Facebook Chat
Facebook Ads Manager will need a list of Messenger User IDs. Ads Manager uses this list to create your new lookalike audience. To get this list, go to Facebook's People tab and look at the filters. Set the user filter and pick the criteria the lookalike audience has to meet. You need a minimum of 100 users from the same area for Facebook to create this audience.
Criteria could include people who are more likely to complete a short questionnaire or quiz to see your ads and sign up to be a paying user. Or, criteria could be people within x distance of your physical store location. Set your criteria and click "Export." Facebook's People tab will compile a CSV file that you download. This file has all your lookalike audience's information like their Messenger IDs.
How to Create a Lookalike Audience
Now that you have your list of Messenger IDs, go to Facebook Ads Manager and open it. Pick "Messages" from the Marketing Objective area. Click "Create New Campaign." Navigate to the Audience section before clicking "Create New." A drop-down menu will appear, and you select the "Lookalike Audience" option.
A new screen will open, and you pick "Create New" again before clicking "Custom Audience." Facebook Ads Manager will prompt you to pick a way to create a custom audience. In this example, you'd use a customer file. Click "Add Customers from Your Own File or Copy and Paste Data." You can now upload the CSV file you downloaded from the People tab.
You don't want to upload anything but the list of Messenger User IDs. Make sure you set every other field to "Do Not Upload" before choosing "Facebook Page User ID" in the Messenger User ID field.
Facebook Ads Manager will ask for the Page ID of your business's Facebook page. If you navigate to your business page, it's typically the part after https://www.facebook.com/ in the URL. Ads Manager doesn't allow for custom URLs like https://www.facebook.com/SamplePage; only numeric ID numbers.
If you have a custom URL, you can visit the Find my Facebook ID page and paste your Facebook business page URL into the provided box. It'll return your numeric ID and you can put it into Ads Manager. The next step is to click "Create a Lookalike Audience." Pick out the regions or countries you want Ads Manager to use to create your audience. Include how broadly you'd like Facebook to match your selected population to your qualifying users.
Finally, pick "Create Audience," and Facebook will use the chatbot users it selects in advance to create a similar audience for your ad campaign.
Benefits of Facebook Ad Chat
Wondering why you should keep a budget for targeted Messenger ads? Here are two big reasons to embrace Facebook ad chat.
1. Retargeting Purposes
Sponsored ads or Click-to-Ads will stay right in your users' Messenger inbox. This puts the ad front and center each time users open their Messenger. It allows you to create lists that you can use to re-target previous customers. For promotions, new products, discounts, or sales, re-targeting people who have already interacted with your brand is an easy way to gain conversions.
2. Personalization
Customers and potential customers like personalization when they interact with a brand. Creating targeted ads in Messenger adds a degree of personalization to each message people receive. It makes them more willing to engage with a brand, look at their services, or try their products.
Brands That Excel at Using Facebook Ad Chat
Some brands gain high conversions using Messenger's ads, and they've figured out how to incorporate them into their business to make the biggest impact possible.
Sephora
As one of the first beauty retailers to embrace the Facebook Messenger chatbot, Sephora leveraged ad chat to the brand's advantage. They use Click-to-Messenger ads to encourage customers to interact with the chatbot. This increased their booking rate. Clicking on Sephora's ad will automatically launch Messenger, and it'll display three options, including book a makeover, chat with support, or share feedback.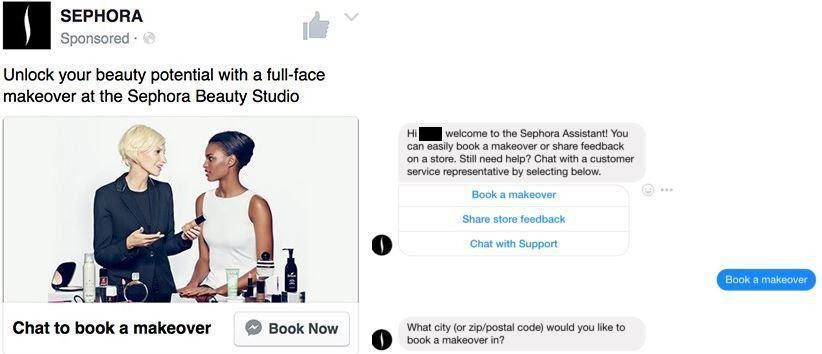 Tommy Hilfiger
Tommy Hilfiger is another example of a company that leveraged Facebook Messenger ads in their favor. After the New York fashion show, this brand launched their chatbot, TMY.GRL with a series of video and photo Click-to-Messenger ads. The ads had products that were recently featured in the New York fashion show, and TMY.GRL helped customers shop for their next look.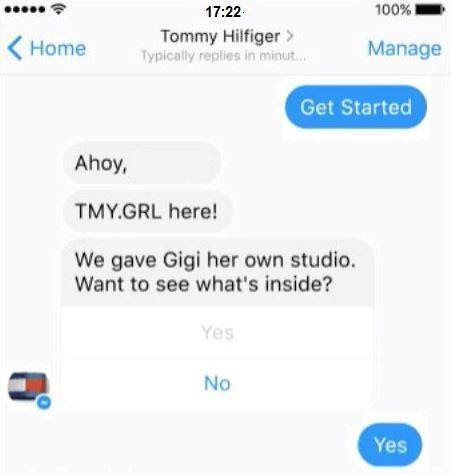 Lyft
Lyft lets you request a ride using Facebook Messenger, Amazon Echo, or Slack. Their chatbot will let you know where your driver currently is. They give you a photo of the driver, their rating, the car, and the car's license plate. It will alert you when your Lyft driver is at your location, and you can update them through Messenger.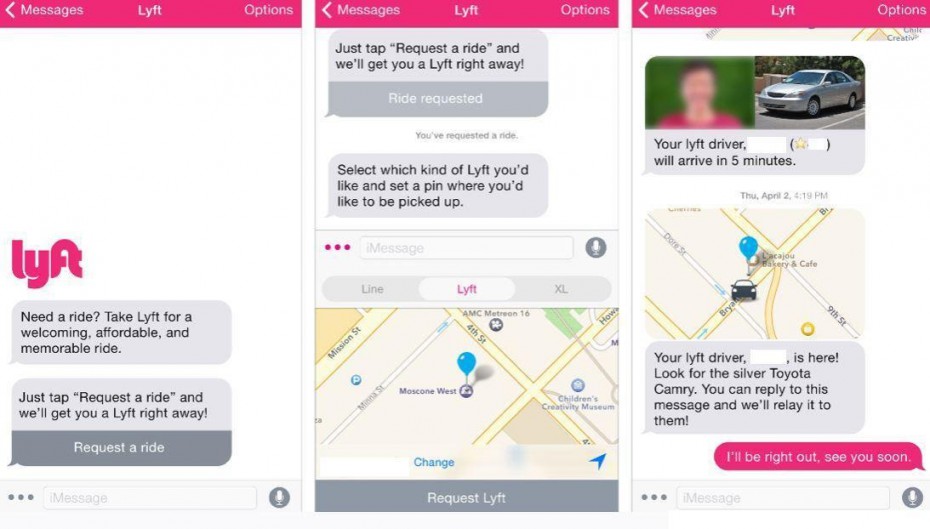 Tieks by Gavrieli
An excellent example of re-targeting customers is Tieks by Gavrieli with their Facebook Messenger ads. Customers who purchased a product, clicked on an ad, or interacted with the chatbot will get periodic messages. They send messages for new products, seasonal items, and things they think you'd like. This draws customers back to the brand and creates conversions.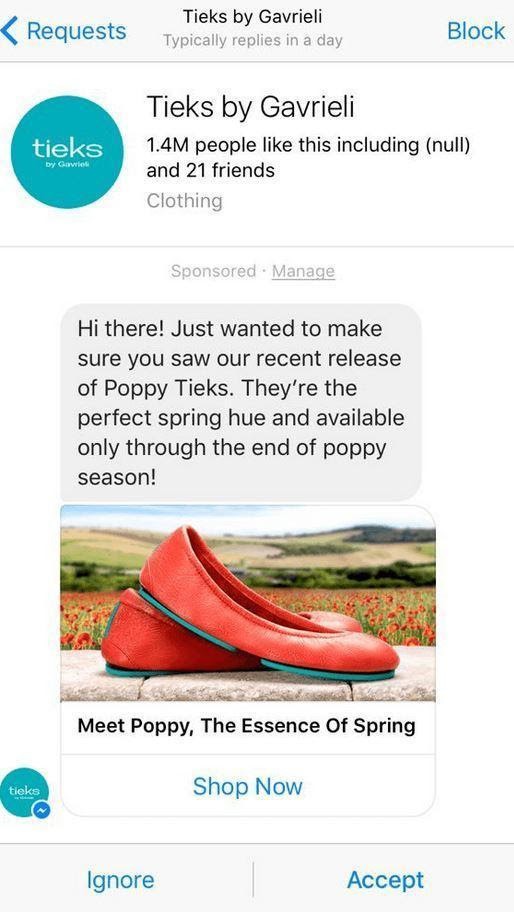 The Vegan Baker
The Vegan Baker has an instant response rate, and this is big for customers. They set the ad up so that it is one of the first things you see. Next, they tell you what they're about; in this case, it's vegan recipes and tips delivered to your Messenger. It lets you know how you can interact with their company by asking questions, finding vegan restaurants, discovering new vegan ingredients, or getting vegan recipes and tips sent to you daily, weekly, or monthly. There is no confusion, and they set expectations straight away.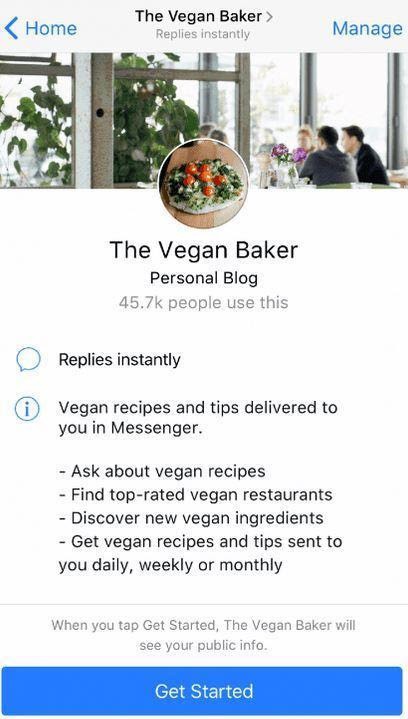 All of these brands embraced Facebook ads and Messenger. As a result, they're boosting their conversion rates and engaging with customers and potential customers every day.
Contact Botsurfer for Facebook Ad Chat Help Today!
If you're ready to take advantage of Facebook Messenger and chat but you're not sure how to go about it, get in touch. Our professional and experienced team are on-hand and ready to help set up the best campaign for your business. We can't wait to hear from you!
Business operations
How to use banned AI ChatGPT in Italy: Combining Facebook Messenger with Botsurfer
Read more