Changes to Facebook Messenger's Policy in 2020
On March 4th, 2020, Facebook released new policies for its Messenger system. The goal of the new Facebook Messenger policy is to improve the user experience by offering protection from abuse and spam. Read on to learn how the new 24-hour messaging window works and how it affects your messages sent out to subscribers.
The developers announced a host of changes for Messenger, encompassing both promotional and sponsored messages. Let's dig into everything you need to know to stay up-to-date with your business practices on Messenger.
Introducing the 24-Hour Messaging Window
One of the big changes implemented at the start of March was the 24-hour messaging window. Basically, any business has 24 hours to send a message to their subscriber after they last interacted with them.
Any messages sent within this window may include sponsored or promotional messages. Should a business send a message after the 24-hour timeline expires, they must tag each message with one of four tags. Originally, there were 17 tags, but this was reduced to the following;
ACCOUNT_UPDATE: Approvals, application status, fraud alerts, or suspicious activity
CONFIRMED_EVENT_UPDATE: To send information about an upcoming event a subscriber signed up or registered to attend
HUMAN_AGENT: Any human agent's response to a person's inquiries within a week of the original inquiry
POST_PURCHASE_UPDATE: Order changes, shipment status, or transaction confirmations
It's extremely important that you tag your posts with one of the four pre-approved tags before you send it. If you don't do this and you pass the 24-hour window for contacting your subscriber, Messenger won't send it. If your message doesn't fit one of these categories, you can email the person or send an SMS message instead.
Finally, Facebook won't allow you to send any promotional messages with this type of tag on it. You can't send messages that upsell your products or services, nor can you send messages with these tags that prompt the person to take a poll or survey.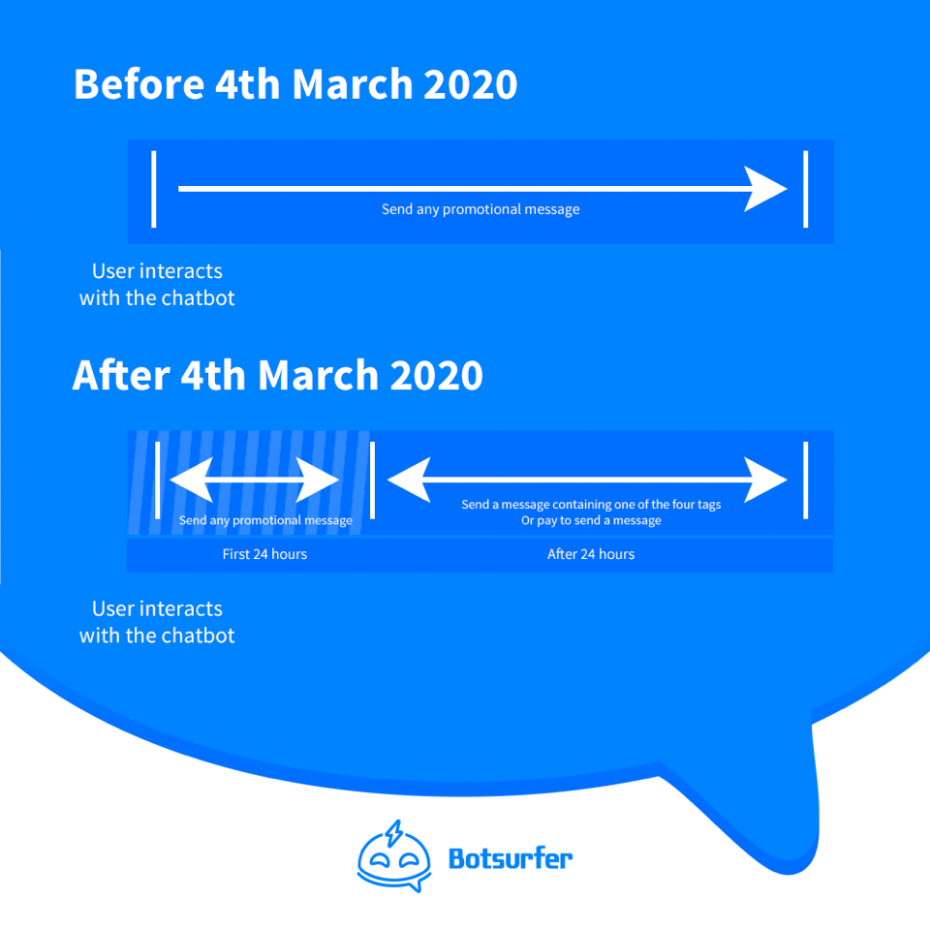 Broadcast and Sequence Changes
Facebook also made changes to the broadcast and sequences sector. As of the start of March 2020, you can no longer have daily, weekly, or monthly sequences or flows. This includes messaging users that opted in and acknowledged that you can send them one tip or idea per day.
However, it's different if you sell a digital product. You may sell digital products that have a four-week Facebook Live series. If you do, you'll need to confirm your users a few weeks in advance. Facebook allows you to send these people a Confirmed Event Reminder tag. Going forward, every broadcast and sequence has to fall under the 24-hour rule, three tags, or pay to play.
Steps to Take to Stay in Compliance With Facebook's New Messenger Policy
With the strict 24-hour messaging window and message tags, staying in compliance means you may need to update your current practices right now.
Step One - Update Your Existing Flows
Start by looking at your existing chatbot. If you have one with Botsurfer, you can easily update everything from your dashboard. Every time someone messages you with your chatbot, the 24-hour window opens for you to send them a reply. You can send sponsored or promotional messages, or any message you want. You won't have to tag these.
There are several things a person can do for Facebook to flag it as a "subscriber interaction" and start the clock on your 24-hour window. They include:
Your subscriber clicks on a quick reply button.
Your subscriber sends a message through the chatbot to your business page.
Your subscriber gets a Messenger link through an email or SMS message and clicks it.
Your subscriber sees and clicks on a Sponsored message ad or a Facebook Click-to-Messenger ad.
Your subscriber lands on the bot's welcome screen and clicks the "get started" button.
Your subscriber uses a growth tool to opt into one of your services.
Your subscriber opens Messenger and clicks somewhere in the Main Menu.
Every time your subscriber does one of these actions, the 24-hour countdown resets. If you have a chatbot, they can send them a message back to start to a conversation or help the customer.
Step Two - Get Subscriber Consent, Email Address, and Phone Numbers
Ideally, you'll already have a running list of your subscribers' email addresses, at the very least. However, you should also have their phone numbers and consent to send messages as well. If you have these three items, you'll be able to send your audience messages that don't fall into one of the four required tags.
One important note with SMS messages. If you send them, by law, you have to have explicit consent from the person you send them to. The subscriber has to proactively opt-in to receive SMS messages from your business. If you fail to get this consent and send the messages anyway, this will lower your deliverability. Additionally, it opens the door for lawsuits and legal penalties against your business.
Step Three - Consider Subscription Messaging
If you haven't applied for subscription messaging from Facebook yet, now is the time to do so. Subscription messaging allows you to send regular messages via Facebook Messenger to a person who has Messenger. It has to be non-promotional content, fall under one defined category, and the people you message have to opt-in.
To apply, go to your business page. Go to page settings and then click on the Messenger platform. Look for the Subscription Messaging area. This will be in your Advanced Settings area. Click on the request button and wait for Facebook to grant it. You'll have to fill out a form that will ask:
A sample message demonstrating how your chatbot will use the service.
Which subscription messaging use case applies to your page (news, productivity, personal tracking).
Two examples of the message you'll send.
Confirm that the bot won't send anything but non-promotional content.
Once you send it off, the developers will decide whether or not to approve your application.
Use Botsurfer to Create Your Chatbot and Reach Your Customers
Are you ready to create a chatbot that helps you reach your customers? If so, Botsurfer can help. You can sign upand explore our software suite today!
Business operations
How to use banned AI ChatGPT in Italy: Combining Facebook Messenger with Botsurfer
Read more