How to Get More Reviews with a Chatbot
A long time ago, business was almost completely location dependent. If you wanted to do well, you had to find the right location, with lots of passing traffic. Then you staffed your stores with friendly, knowledgeable salespeople, and trained them to deliver great service.
If things went well, your customers would tell their friends, and by the magic of word of mouth, you'd get more business. Then, if things went really well, you would open another location, and repeat the process.
In some ways, things are still pretty similar. You need to hire the right people, focus on customer service, and make sure your customers are happy. Reviews and word of mouth (albeit it the digital kind in the form of Google reviews) still bring more customers to your business. But these days, your customers might as easily be on the other side of the world as they are in your city.
We've been moving towards a "click and mortar" business model for a while, but the pandemic just made the change happen faster. Today, if you're not selling online, you're not competitive. Which means digital "word of mouth" is more important than ever. Here's what you need to know.
Why Reviews Matter
If you're new to ecommerce or haven't relied as heavily on your online presence in the past, you might be wondering if things like Google Reviews really matter. They do, here's why:
9 out of 10 customers say that online reviews influence their buying decisions
If you thought that was just true for consumers, think again! B2B customers are also 92% more likely to buy from a company based on a credible online review
Positive online reviews affect organic SEO rankings – so your business appears higher in the rankings if you have better reviews
If your online review average is lower than 3.3 stars, most customers would need to be convinced to do business with you, and if it's 1 or 2, they probably won't call you at all
Google Reviews top the list of review platforms customers say they trust
72% of local customers say that they trust local businesses with higher reviews more – so this applies not only to online shoppers, but people who walk into companies in your area too
Over 30% of customers say they spend more with businesses with outstanding reviews
The numbers don't lie. Online reviews are essential to business success today. In fact, most people who call or contact you found your business online, so if your reviews are bad, you're losing business.
Why More Reviews Matter
It's clear that if you want to succeed in our click and mortar world, you need to get some good online reviews. But in most cases, a handful of good reviews isn't enough.
The reason for that is that your online review star rating is an average. So, if you have one five-star review, just one 1-star review will bring your average star rating down to 3. Which in turn would make you a risky proposition to anyone who is skimming local search results on the internet!
The best way to protect your business's online reputation from this kind of averaging is to make sure you have more positive, five-star reviews on your profile. Then the occasional one-star rating won't damage your stats quite so much.
It's also important to note that many sites don't require reviewers to prove that they have had dealings with you – or even leave a written review at all. All they need is an active account, and they can leave a star rating if they like. So, there's always a chance that there are at least a few fake reviews on your profile.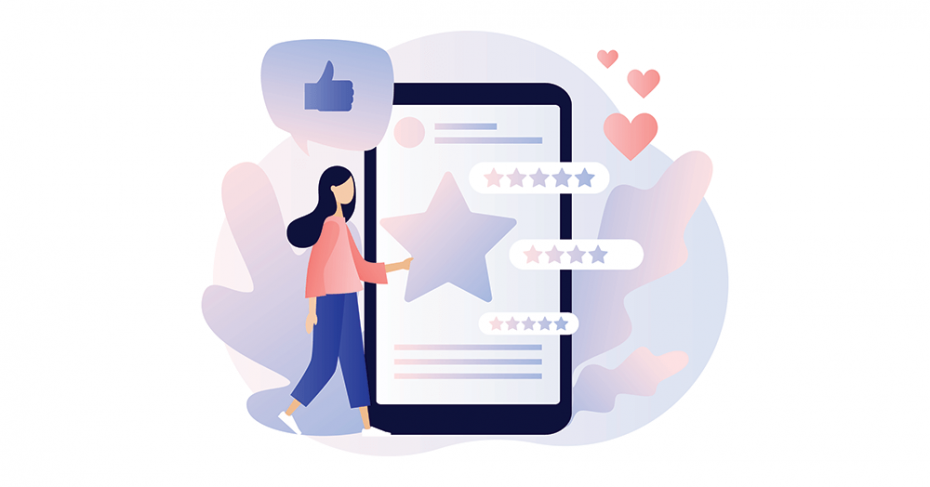 Why Chatbots Matter in Getting More, Better Reviews
A long time ago, if a customer wanted to deal with your company, they would have to wait until you were open for business, and call or visit your office. Sometimes, they would send a fax, and you would attend to it when you were back in the office.
But these days, people can shop for nearly anything at any time of the day or night. So, there's a good chance they will reach out to you for information at 2am on a Saturday. That might not even be because they are up late. Ecommerce and online business have basically eliminated borders and time zones, so you could be talking to someone who is on a different continent.
Time has no real meaning in modern business, but customers are also more impatient.
Studies have shown that if your website doesn't fully load within 10 seconds, most people won't wait around to see it. They'll simply go to the next one.
We've become creatures that demand instant gratification and waiting more than a day or two for an email response is enough to turn us off any business. So, the speed with which you can respond to customers matters. In fact, even if you can't help customers, they will have a positive view of your company if you tell them that quickly. So, while you might not make a sale this time, you could still make one in future.
We want what we want, right now, and if we don't get it, we're upset.
That alone is enough to drive prospective customers to review platforms to leave a poor review about the speed of your service.
But chatbots and chatbot makers change all that.
Instead of waiting for your office to be open and staffed, your chatbot can answer basic questions, direct people to the right department, or even send them to a sales page to complete a transaction. It can do this on weekends, holidays or in the middle of the night, when no one is in your building. So, people get the instant gratification they demand, and you get a customer in your sales funnel, to follow up with when you are in the office!
Ready to try building your first Facebook Chatbot?
Create your free Botsurfer account now!

Chatbots and social media
Whether we like it or not, social media has also become critical to business success. Sites like Facebook have billions of users, and more people than ever before are using them to connect with businesses for products and services they need.
But again, no one likes to wait for your team to be online.
So chatbots, again, step up to the plate, answering questions, redirecting inquiries, and providing boilerplate solutions that keep customers engaged. It might not always be a direct line to a sale, but it's a great start to a potential one.
In fact, over 200 billion small businesses use Facebook to advertise – and many don't have a website at all. So, their Facebook page and messenger account are their primary means of online communication. It makes sense to optimize them, so your prospective clients are delighted with the response from day one.
Ask for Reviews
The most important thing that most businesses don't understand is that very few people will voluntarily, of their own free will leave a positive review. They're much more likely to leave bad reviews when they don't get what they want or need. So, you need to ask for reviews.
One way to do this is to ask your existing customers to leave you a review if they were happy with the service they got. You could even offer an incentive of some kind, like a discount on their next order, or the first opportunity to buy new products.
But another great way to make this happen is to ask for reviews on your social media messaging account, or as part of your email response program. If you're using a chatbot to manage, filter and funnel some of your prospective clients, you can add a step to ask for feedback on that process.
Reviews aren't only about products you sell and services you deliver. Every interaction with your company is an opportunity to get positive reviews online.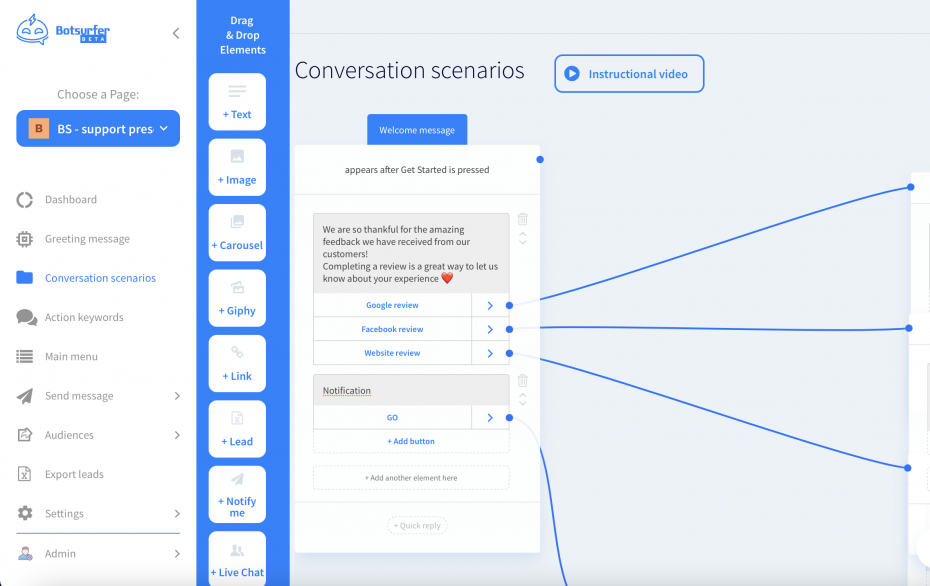 Build a Bot Easily
Not too long ago, building things like chatbots to engage with your potential customers was a tricky business. You needed to have extensive knowledge and might need someone to code it from scratch – which is time consuming and costly.
But times have changed in that respect too – thankfully. Today, there are services like Botsurfer.com that make it easy to build, deploy and modify chatbots for platforms like Facebook. This allows business of all sizes to do things like build a chatbot for reviews.
Never Too Early to Start
The great thing about online business and marketing is that it's never too early or too late to start implementing proactive measures that will have a positive effect. Even if you have never used online reviews to grow your business, you can get started today. If you have negative reviews online, you can start proactively reaching out to customers and contacts to ask them for positive ones that will counteract them.
Google Reviews have only become more important over time, and that's not likely to change. If you have poor reviews online, you're probably losing business from it. So, if you haven't already considered getting Google Reviews with a chatbot and automate the process. Because the more you can capture the low hanging review fruit, even just by responding in a timely manner, the better your online reputation will become.
If you are ready to step up your communication on Facebook and get more reviews using a chatbot, register for a free trial of Botsurfer chatbot builder below and get started now!
Business operations
How to use banned AI ChatGPT in Italy: Combining Facebook Messenger with Botsurfer
Read more