The Power of Direct Response Marketing for Your Business
Direct response marketing is a tactic that targets a specific audience, and it also has a call to action designed to drive measurable results. Putting a direct response marketing plan in place makes it easier to budget because your ROI calculations will be much more targeted and precise. Either your campaign will convert people and pay for itself, or it won't. If it doesn't, you cut the plan, head back to the drawing board, and move on.
But what is direct response marketing, and what are the necessary components of each ad? Which channels are most effective, and what are some direct response marketing examples? We'll cover all of these questions and more below.
Defining Direct Response Marketing
When you create ads in a direct response marketing campaign, the goal is to evoke an immediate response from anyone that sees it. You use enticing offers that encourage your audience to take action. Every day, companies surround you with these types of ads in the form of radio spots, TV commercials, print marketing, online ads, and websites.
When companies use direct response marketing in a digital format, you'll encounter these ads as social media ads and pay-per-click ads. They often make irresistible offers that push whoever sees it to become a lead. For example, in exchange for a free trial or product, you might ask your audience to share your latest piece of content, sign up for an email newsletter, or register for a class or program.
The main goal is to turn strangers into paying customers, and they use the calls to action to motivate positive action. In this case, it would be to do whatever the CTA suggests. To be a direct response ad, it has to trigger instant activity and feedback, or it fails.
Three Big Components of Direct Response Marketing Ads
Usually, every direct response marketing ad has three main components. We'll outline them for you below.
Component One - An Offer
To be a direct response marketing tactic, your ad has to offer your audience something. This is the proposal that will encourage your audience to respond straight away. Things like coupons, discount codes, product trials, and free products all count as offers.
You're usually not trying to sell anything with this marketing tactic. Instead, you're trying to catch your audience's attention with a free offering, and prompt them to take action. The ad will suck them in and help turn them into a lead. You'll want to hit on your targeted audience's pain points, like their frustrations, desires, emotions, or fears. Doing this inspires even more timely action.
Component Two - The Information
It's critical that your ad contains the right amount of information to get your point across without overwhelming your audience. Give the audience information that will make them consider your offer, or even accept it right away. The amount of information you pack into each ad campaign will depend on how well-known the product or service already is.
You only have a few seconds to grab your audience's attention. So, your marketing tactic should feature all of the information the audience needs to make an informed decision, and there should be a persuasive message that pushes them to respond to the call to action.
Component Three - The Call to Action (CTA)
The final component is arguably the most important. The call to action guides your targeted audience and compels them to complete whatever action your ad is supporting. This will help your audience know what their next step is, and strong CTAs usually focus on:
Purchasing a product at a discount
Signing up for your newsletter
Downloading a white paper or guide
Sharing a video or article
Following a link
Subscribing to a video channel
Collecting a discount or coupon code
Contacting the business
The Most Effective Direct Marketing Response Channels
You want to use the right channels to achieve the best ROI possible. Since there are so many different options available, you could waste valuable time trying out each one. We've researched and picked out the channels that seem to perform the best for direct response marketing campaigns below.
Direct Mail - Believe it or not, direct mail is still a viable option for local businesses. It can encourage people to come into your local brick and mortar location to shop, ask about products, or just see what's available.
Email Marketing - Email marketing is one of the biggest direct marketing response channels for any business. For every dollar you spend on email marketing, your average ROI is $32.
Experiential Marketing - Offline events, street marketing, and trade shows are all excellent ways to connect with your targeted audience. One example of a successful experiential marketing campaign is the TedXMileHigh banner that encouraged people to sign up for a Messenger bot. The final participation numbers were five times the projected amount.
Messenger - Marketing through Facebook Messenger is one way to boost your average response rates. As it's one of the largest social media platforms available, it's also one of the leading channels for businesses to use.
Paid Social - Targeted Facebook ads are excellent ways to expand your reach and get in front of more people. When you attach paid ads to your Messenger bot, you can build your contact list while encouraging leads to take action at the same time.
Short Messaging Services - Text message marketing is very popular with businesses and brands right now, due to the fact that it's one of the most cost-effective and easiest ways to reach out to thousands of people.
Five Direct Response Marketing Examples
Now that you know what the ads in your direct response marketing strategy should contain, we'll give you several great examples of when and how you would use them. You can experiment and see which ones work best for your ad campaigns, and which ones offer the highest conversion rates.
1 - Facebook Ads to Drive E-Commerce Sales
E-commerce ads have a very clear objective. They want the audience to "Shop Now" or "Buy This" straight away. Say that the product in question is a new pair of shoes. The bulk of the ad will be images of these shoes. Then, the ad will go on to explain what makes them unique.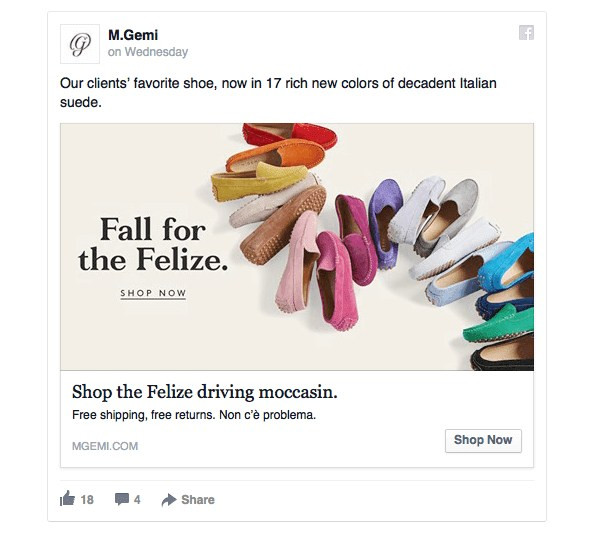 You'll see that the ad showcases you get free shipping and returns from a family-owned specialist factory. They market them as impeccable shoes that have the ease and comfort of a slip-on with the classic lace-up profile. Anyone who did a search for similar shoes should expect to see an ad similar to this show up in the search box.
2 - Recruit New Employees
Sometimes, companies use direct response marketing to position themselves between suppliers and buyers. Nowhere is this more apparent than in the ride sharing economy. The success of these companies relies on their ability to use direct response ads to attract both customers and suppliers. Lyft and Uber use direct response marketing to attract new drivers.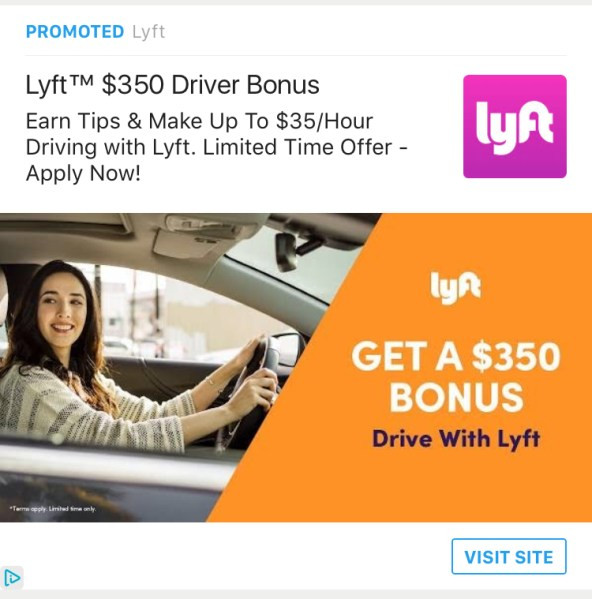 As you can see with this ad, all you have to do is click the link (CTA), fill out your information, and click the "Become a Driver" link to get $1,000 in guaranteed earnings. On their website, Lyft also has a banner that asks, "Do you want to be your own boss? Start today!" All you need do to connect with such an aspirational incentive is enter your phone number and agree to their terms of service.
3 - Refer-a-Friend Programs can Grow a Customer Base
Back in 2017, a new company called Harry's was able to grow their customer base to the tune of 100,000 emails in a single week. They accomplished this by introducing a milestone refer-a-friend program. Once customers signed up, they got a unique code. Anyone they invited to purchase products or start a trial could input their code under the refer-a-friend program.
There were four milestones in Harry's program. If you referred five friends, they rewarded you with a free shave cream. Refer 10 friends, they'd send a free razor. Refer 25 friends, they'd send you a free premium razor. The final tier was referring 50 friends, and people who reached this level got free shaving for a year. Since the milestones were very achievable, people jumped on the program.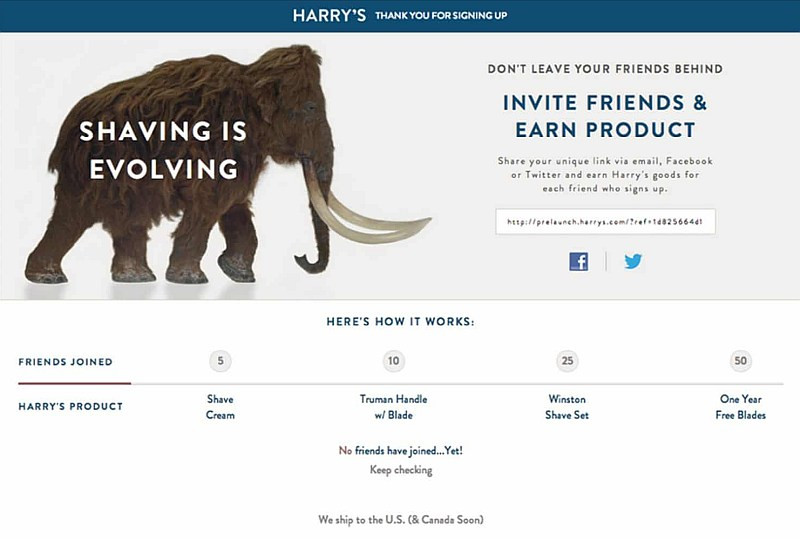 4 - Make Your CTA Very Clear
The main goal of direct response marketing is to encourage your audience to act. Using a simple and straightforward message that has a high appeal to your audience like "Register Today" or "Try It Now" can help people make the leap and click on your call-to-action. A lot of businesses make the mistake of getting too wordy with their CTAs. Instead, keep it clear, concise, and to the point like Netflix does below.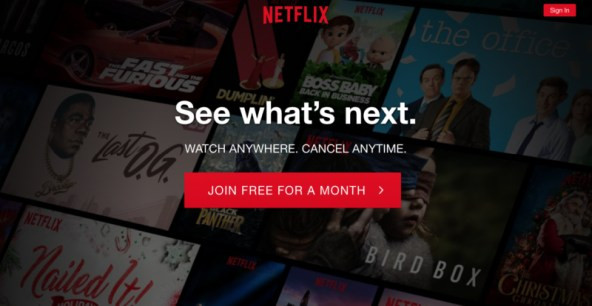 5 - Put a Time Limit on Your Ads
No one likes to feel like they're missing out on something, and this is precisely why putting a time limit on your ads is so effective. You prompt your audience to act right now because it's a limited-time offer.
You do want to set a reasonable time limit that gives your targeted audience enough time to think about the offer. However, it shouldn't be too much time. If you only give your audience a few seconds to act, they'll feel rushed and ignore it, but if you give them too long, the urgency will drain away. Aim to strike a happy medium.
Set Up Direct Response Marketing Ads in Botsurfer's Chatbot
If you're ready to set up direct response marketing for your business, start with Botsufer's chatbot. You can sign up today for your trial and explore our software suite to see how we can help you boost your ROI and convert new leads.

Business operations
How to use banned AI ChatGPT in Italy: Combining Facebook Messenger with Botsurfer
Read more