9 Chatfuel Alternatives for Building No-Code Chatbots
Chatfuel claims their platform is the easiest way to build bots for your business communication needs. The list of brands using Chatfuel is impressive too, including the likes of Netflix, Visa, Lego, and Greenpeace. Building chatbots with Chatfuel takes no time at all, using their simple drag and drop builder and you also don't need any coding or other technical expertise.
Chatfuel is clearly one of the chatbot builders you should be considering for your business. But, there are alternatives that match these claims while still giving you all the tools you need to build no-code chatbots. Whether you're a startup, a growing small business, or a large organization, finding a no-code chatbot builder that isn't Chatfuel but gives you all the features is an option.
Here's our list of some of the great alternatives to Chatfuel. Our in-depth review of each no-code chatbot builder should answer most of your questions. Plus, we're saving you time and helping you make an informed decision best for your business conversational marketing needs.
What is Chatfuel? A Quick Overview
Chatfuel is a no-code chatbot builder used by brands worldwide. It was founded in 2015 and to date, over 7 million businesses have chosen to use Chatfuel for all their bot building requirements. Chatfuel focuses on optimizing social media messaging such as Facebook Messenger and Instagram.
Their bot building features make it easier for companies to tap into the massive potential of conversational marketing and messaging. Chatfuel uses automation technology to help businesses generate leads, increase sales conversions, and improve customer support. The platform also gives you the tools to send prospects from your Facebook ads directly to a conversation with a bot.
Chatfuel intuitive drag and drop builder lets you create a bot in just three minutes without any previous coding experience. The interface is user-friendly for both the creator and the customer engaging with the end result. Chatfuel customers find the platform stable, trustworthy, and simple to use. They also find the customer support services efficient.
Notable Key Features
Lets you create bots qucikly for website, Facebook Messenger, and Instagram
Allows you to create a personalized conversation sequence
Recognizes trigger keywords
Provides broadcasts and lets users subscribe and unsubscribe
You can build chatbots in multiple languages
Includes integrations such as Zapier, Google Sheets, and Integromat
Pricing
Offers a free plan for up to 50 users
Pro Plan starting at $15/month, price scale dependent on number of users
Premium plan with more advanced features and tools
Agency plan exclusively designed for marketing agencies
Alternatives to Chatfuel: 9 No-Code Chatbot Builders
If you're still not convinced that Chatfuel is the right bot builder for your business, one of our alternatives may be the solution you're looking for. We've taken into consideration the key features and the pricing of each chatbot builder.
With Botsurfer, you can effectively run efficient conversational marketing and messaging campaigns when using their platform to create chatbots for Facebook Messenger. Using simple AI software, your Botsurfer bot can increase leads generation, improves sales conversions, and support customers with responsive conversations.
Botsurfer chatbot builder is simple to use, with a user-friendly visual interface. Powerful features enable you to build great conversation scenarios and it's easy to compose even the most difficult flows with their drag and drop builder. What's more, you don't need any coding or previous technical experience.
Key Features of Botsurfer
Action keywords allow you to create responsive answers while making the bot more life-like with personalized conversations
Audience segmentation lets you target users looking for certain products or services
Add some fun to the conversation by using Giphy elements in response to a customer using a GIF message
Chatbot menus and sub-menus are designed to guide your customer to the right answer or CTA
Broadcast messages directly to customers who have engaged with your bot
Use analytics to highlight customer engagement, real-time traffic, and find out what your customers are talking about
Advanced AI solutions including voice and image recognition can be included
Live chat function by directing a customer to a real human when the bot can no longer follow through with the conversation
Pricing
Free plan available with unlimited conversations and subscribers
Business plan from €99 per month
Why Botsurfer is a Good Chatfuel Alternative?
Botsurfer is simple to use while offering powerful features to create highly efficient chatbots with no coding experience. You can tap into the Facebook Messenger market within minutes of creating your first bot. The platform's pricing plans are most attractive with one offering you unlimited conversations and subscribers at no cost to your company. However, the Business Plan gives you more advanced features when your brand starts to expand.
2. ManyChat
ManyChat gives Chatfuel stiff competition. It allows you to build bots quickly and easily for Facebook Messenger, Instagram DM, and SMS Text Messages. Businesses in over 190 countries worldwide rely on ManyChat bots to convert sales, generate leads, and give their customers the support they want at any time. Interactive, personalized conversations are easy to create with this platform.
ManyChat integrates with other business tools you may be already using such as Shopify, MailChimp, or Google Sheets. Ready-to-use templates are available for creating bots if you don't want to build your own.
Notable Key Features
User-friendly interface that allows you to set up and test your chatbot
Includes a number of elements such as video, audio, emojis, persistent menu, locations sharing, and email validation
You can add custom fields and tag users with their audience segmentation function
Provides broadcasts as well as organized sequences that let you see when the message was sent
Allows for customers to subscribe or unsubscribe from sequences
Has a built-in live chat integration which can also be used when you download their iOS and Android apps
Pricing
Free plan for 1,000 users and basic features
Pro Plan starting at $15/ month, scaling on number of users
Why is ManyChat a Good Chatfuel Alternative?
ManyChat is a winner if you want to use multiple channels but great for Instagram users. It offers great user experience. The platform also gives its clients strong customer support with loads of free resources plus an interactive Facebook community. ManyChat works well for ecommerce businesses with integration to Shopify and receiving payments from Stripe and PayPal.
3. MobileMonkey
MobileMonkey is a chatbot builder that lets you create bots for a multiple range of messaging channels including your website, Instagram, SMS, and Facebook Messenger. The platform's automation tools are designed to improve conversational marketing for all types of businesses. MobileMonkey gets more leads and they back this claim with a money-back guarantee.
The MobileMonkey bot also improves sales and customer relationships. The platform's tools are easy to use for both startups and smaller businesses. But, it's advanced technology also talks to the bigger organizations looking for more from their bots.
Notable Key Features
Patented OmniChat technology to write chat content once and you can use it on multiple platforms
A unified chat inbox making it simpler to manage all customer conversations using your bots
Conversations across different messaging apps can be managed from both iOS and Android apps
Chatbot tools include website chatbots, Facebook Messenger Website Chat Widget, Q&A triggers, and chat forms
Audience segmentation tools make it easier to target specific users
The chatbots are optimized for any device being used by your customer with all messaging history kept in one inbox
An easy-to-use drag and drop builder that works across all channels
Chatbot templates available for Facebook Messenger
Pricing
Free plan with limited features
Subscriptions start from $19/ month
Premium plan starts at $299/month
Why is MobileMonkey a Good Chatfuel Alternative?
If you're looking for a chatbot builder that allows you to use multiple channels, MobileMonkey could be your solution. Different features for different users also makes this platform stand out while offering a range of pricing plans to suit most budget lines. MobileMonkey offers powerful software for chatbot functions, letting you engage on a number of social media platforms.
4. Tars
Tars takes pride in supporting their customers the minute they sign up. They provide a range of tutorials, webinars, and even personalized consultations when you need the extra help. Tars chatbots are all about creating exciting engagement for better customer experience. This is what results in leads, high sales conversions, and a happier client.
There are some drawbacks to using this chatbot builder though including no segmentation features and you can't send broadcasts or sequences to users. But, Tars still offers enough features to make it a worthwhile platform for building your bots without any coding experience.
Notable Key Features
Easy-to-use interface with a visual flow builder with 81 different templates
Includes elements such as attachments, location sharing, quick replies, and horizontal list
Makes use of conditions in the chatbot flows
Allows you to use multiple languages
Designed for website and Whatsapp channels
Zapier integration
Pricing
No free plan but a 14-day trial period is available
Three pricing plans starting at $99/month
Why is TARS a Good Chatfuel Alternative?
While Tars is not big on features, it does give you enough for creating bots on your website and Whatsapp. However, it's not available for Facebook Messenger or other social media platforms. Tars customer service and support is what makes this chatbot builder an option to consider if your bot building requirements are limited to the abovementioned channels.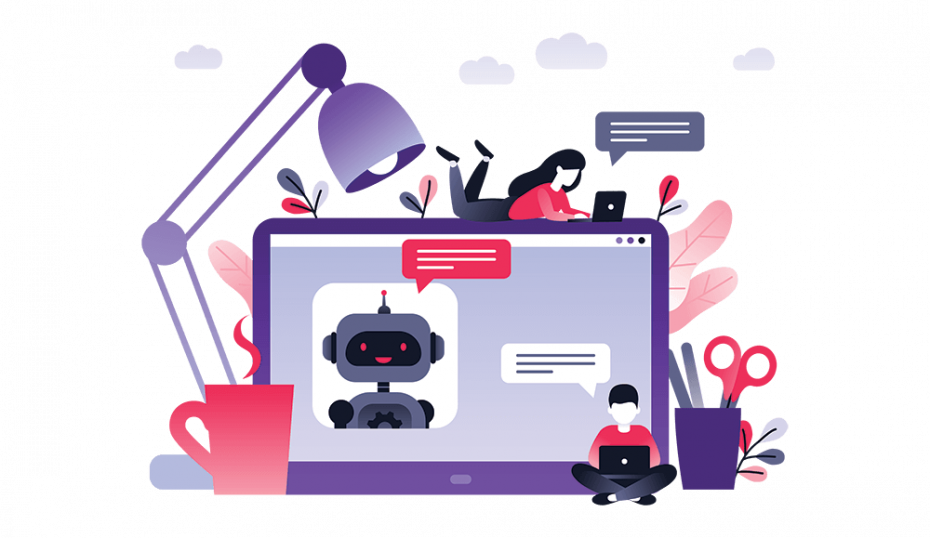 5. Intercom
Intercom prides itself on offering a chatbot builder for creating custom bots. The right questions are asked to give the best answers and routing conversations for live chat support with a human is possible. Intercom bots are easy to build and within minutes you can be generating leads. Sale conversions are faster too.
Intercom serves all businesses from startup to small to medium-sized companies. They can also give enterprise organizations the right conversational marketing tools they need to drive sales. They focus on healthcare, ecommerce, financial, and education industries.
Notable Key Features
Support and engage customers with their unique business messenger feature
Customer interactions can be managed all in one place for a more streamlined approach
Segmentation allows you to leverage more personalized engagement with your customers
Integration is possible with over 300 apps
Allows for various teams to understand their customers' needs by being part of the conversation
Very easy to use for all levels of users
Product tours for helping creators build bots
Pricing
No free plan but offers a free trial period
Pricing plans designed for most businesses including very small companies
Plans start from $39/month to $499/month for premium features
Why is Intercom a Good Chatfuel Alternative?
Intercom is a good alternative if you're in the financial, healthcare, educational, or ecommerce industry. It's also a good platform if customizable bots are a priority for your conversational marketing strategy. And, if you're serious about communicating with every single customer yourself, then you'll like Intercom chatbot builder.
6. WotNot
An easy-to-use chatbot platform, WotBot was created to support businesses who want to give their customers great service while saving on unnecessary costs. WotNot bots are created to shorten customers' waiting time when wanting service from the business they're engaging with.
WotNot chatbots allows you to engage with your customers in real-time and can be used across multiple channels such as Facebook, your website, and Whatsapp. And, it's easy to clone, rebuild, and deploy any of your bots when and how you need it.
Notable Key Features
Easy to create workflows with your sales team and other departments
Includes curated templates to get you started
Simple interface for easy management of all your bots
Utility tools include auto-save changes, version control, re-do/in-do, and auto layout for creating personalized conversations
Triggers allow further personalization depending on the context and conditions you set
Cater to different audiences no matter what volume
Viewing on live chat interface with the option to step into the conversation
Allows you to connect Dialogflow with your bot
Offers elements such as carousel, image, and delay
Pricing
No free plan but a 14-day free trial period is available
One plan at $99/month with all the features include
Why is WotNot a Good Chatfuel Alternative?
If you want a simple pricing plan that includes all the features of a chatbot builder, WotNot is your best alternative to Chatfuel. This no-fuss WotNot Bot Builder is popular with the real estate industry but also used in educational, ecommerce, and banking sectors. Business owners in the healthcare and insurance industries are also using this bot builder for their conversational marketing campaigns.
7. Engati
Engati starts off by selling themselves as the "best integrated AI and Live Chat platforms." Their proprietary NLP Engine gets your chatbot engaging fully with your customers while you can personalize conversations in over 50 different languages. Omnichannel engagements across multiple channels are organized in one inbox for simple management of all conversations.
This platform lets you build lasting relationships with your customers through the bot and live chat functions. The chatbot builder uses simple drag and drop actions to create AI conversational sequences.
Notable Key Features
Compatible with over 14 different channels making it easier for your customer to engage from their preferred messaging app
Conversations can be conducted using multi-lingual languages making it easy to conduct business globally
By using Engati's DocuSense, your bot can refer to one document for all the relevant information and answers when responding to customers' queries
Offers a wide range of extensible integrations letting you use your favorite applications
Allows you to broadcast messages to all your customers
Analytics to track your customer engagement, real-time traffic, and find out what they're talking about
Widget customization and pop-ups
Pricing
Free plan with unlimited conversations
Professional plan at $79/month
Business plan at $249/month
Custom plan available with price on request
Why Engati is a Good Chatfuel Alternative?
Engati is a good option if you working with a number of multiple channels and you're looking for a platform that includes a powerful NPL Engine. This platform is new, having only started in 2020 but brands such as Viafone and USAmericare are using their bots for their own businesses. Engati is also big on supporting businesses who rely on Whatsapp.
8. Botsify
A chatbot platform, Botsify provides automation tools across a number of channels. Channels include website, Whatsapp, Facebook Messenger, Telegram, SMS, and WordPress. Brands such as Total, Spotify, and World Health Organization uses this platform for their chatbot communications as well as live chat functions.
You can build high-tech bots without having any coding experience yourself. And, Botsify lets you generate leads, increase sales conversions, and offer real-time support while improving your customer's experience.
Notable Key Features
Easy drag and drop builder to customize your chatbots
Data store which allows you to keep all your customers' information and for creating a user's list
Interactive conversational flows which includes directing your customers to CTAs
Engage with customers as soon as they land on your website page with personalized messages
View your bot conversations and step in whenever you want to
Automate responses for Facebook comments
Conversational forms can be integrated into your chats
Over 100 integrations including the popular Zapier, Slack, and Google Sheets
Converse in over 190 different languages
Pricing
No free plan but 14-day free trial period available
Basic plan at $40/month
Professional plan at $125/month
Business plan at $415/month
Custom plan available with price on request
Why is Botsify a Good Chatfuel Alternative?
If you're looking for a chatbot builder that can handle your global business, you'll like Botsify. It gives you access to a wide number of different languages making your bot conversations a winner with customers worldwide. It's also a great platform if you're a WordPress user.
9. Tidio
Tidio comes in as a customer support agent by designing their bots to handle all the hassles while you focus on building your business. It includes automated lead generations and 24/7 customer service on your website. You can welcome visitors to your site, reach out to customers before they leave your page, and welcome back returning users with different types of chatbots.
You can use Tidio chatbots to give discounts, help customers with queries, and engaging with buyers on your ecommerce platform. You can also reach international customers by conversing in their language with Tidio multi-lingual conversations.
Notable Key Features
Easy-to-use interface
Pre-built templates which are customizable or build your own bot with intuitive drag and drop builder
Popular conversation scenarios already structured for you to pick and use on your website
Uses NLP technology to respond to most frequently used words
Seamless integration with MailChimp and Zapier
Help center with comprehensive tutorials to support you
Pricing
Free plan doesn't include building chatbots
Chatbots plan at $39/month unlimited users and chatbots
Why is Tidio a Good Chatfuel Alternative?
Tidio offers a range of products to support customer services including their chatbot builder. They focus on business websites and their chatbot templates are ideal for ecommerce companies. Their Chatbots pricing plan is affordable, making it an attractive option for smaller businesses who want to improve their customer services on their website.
Final Thoughts
With so many alternatives to Chatfuel, you may feel overwhelmed by the choices. However, each platform offers some unique features that may be better for one type of business compared to another. Check out notable key features of each chatbot software before picking the platform for your business needs. Different pricing plans may also be the deal breaker.
By doing your research and knowing what your conversational marketing needs are for your business, you can rest assured you'll find the best no-code chatbots builder for you. And of course, there is the free trial of Botsurfer no code chatbot builder available for you, just click the button below!
Business operations
How to use banned AI ChatGPT in Italy: Combining Facebook Messenger with Botsurfer
Read more